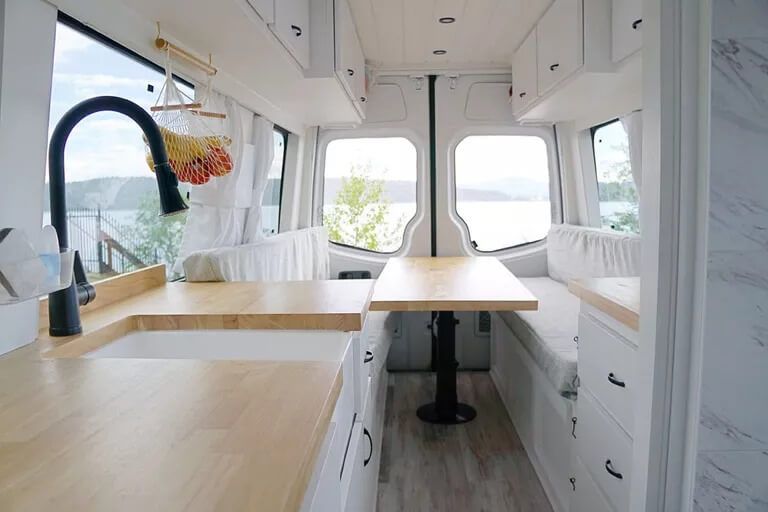 Travelling and following your passions are things that most people yearn to do. Yet, in the midst of holding down a 9-to-5 job, in order to pay down a mortgage or monthly rent, people can find themselves caught in a vicious cycle of working just to live, rather than really living. Thankfully, it seems that technology is the big disruptor here. The Internet allows a growing number of people to work from home, or to travel and work full-time, and combined with the huge interest in minimalism and tiny living, we're now seeing more and more people converting vehicles into homes that they can take wherever they go.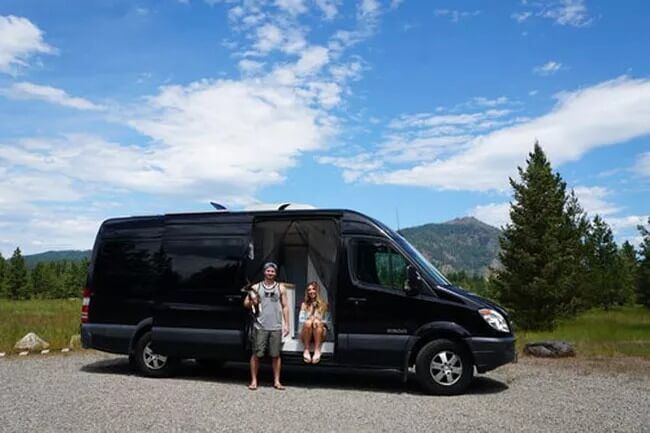 Business coaches and yoga instructors Sara and Alex James of 40 Hours of Freedom are yet another couple who decided that the the conventional lifestyle of living and working in one place was not for them. Their love for travel, hiking and other outdoor activities recently led them to convert a 2008 Dodge Sprinter into a portable, 100-percent solar-powered home, complete with a shower-equipped bathroom. It's now their travelling office too, as they work on their digital marketing business, coaching people on how to start their own online business so that they can also escape their office jobs. As Alex tells us:
Vanlife presented the perfect opportunity to take our home with us everywhere we wanted to go. The professional landscape has changed thanks to the Internet, so we have taken that motivation to create an online business that allows us to travel and work from anywhere.
There's a lot to like about this van: first, it has a bathroom space that combines a shower with a toilet. There is a self-cleaning shower door that slides open and closed, and wipes itself dry at the same time, eliminating those moldy shower curtain smells. In the same area, just behind the driver's seat, there's a kennel for the couple's two small dogs, and a small closet space.
The couple love to cook their own healthy vegan meals, so the van's kitchen area features a big counter space, a small refrigerator and overhead storage cabinets, which are equipped with pneumatic hinges to help them open on their own.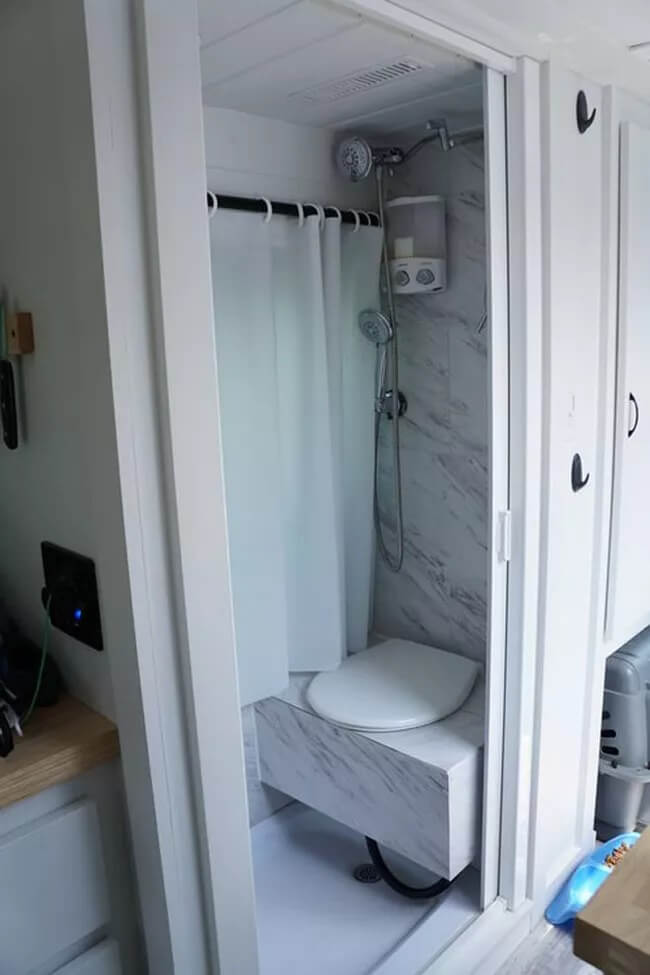 The kitchen sink is actually a bathroom sink that's been adapted for its size — it's not as small as a typical RV sink, but not too large for the van and still allows them to wash pans and dishes. Across from the main kitchen counter is yet another counter space, resting on top of drawers for clothing.
At the back of the van is the dining table, which conveniently can be slightly rotated to allow one to get in and out easily. It's an RV-style table, where you use it as a table during the day, but at night, the supports underneath can be removed, and the table surface placed at the same level as the seating, forming a bed.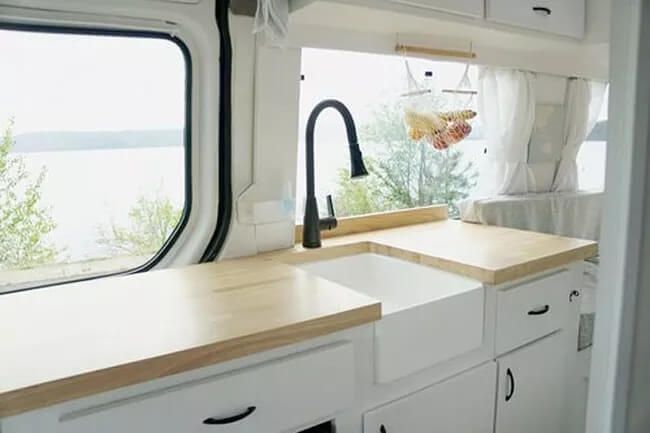 The couple bought their van for USD $25,000 with about 50,000 miles on it. The renovations cost about $10,000 and a few months to complete, with the help of Sara's father, a professional home builder. They chose this particular type of van due to its reliability (apparently, they can run up to 300,000 miles and more), good resale value and the fact that they can stand up inside, install a bathroom, and also have plenty of storage.
So far, the couple has explored over a dozen American states and five Canadian provinces in the last few months. They plan their travels around sites they want to visit, attending family gatherings and weddings, as well as caravanning with other folks in the broader vanlife community.
The couple says that their new living arrangements has compelled them to be very careful of how much water they use and how much waste they generate: "Your habits begin to change for the better." Even their relationship and general outlook has changed, they say:
Life on the road has been even better than we could have imagined. There can be challenges and frustrating moments. We got stuck in the mud at a campsite in Canada late one night, but what is important is the attitude you have. Plans and the weather can change quickly and often. Being able to adapt and be flexible is crucial. Living in a small space can present it's own challenges as well. However I think it has brought us closer together as a couple. Even if we get into a fight we move past it quickly, there's no time or space for sulking in a van.
To find out more details and specs about Alex and Sara James' van build or their coaching services, visit 40 Hours of Freedom.