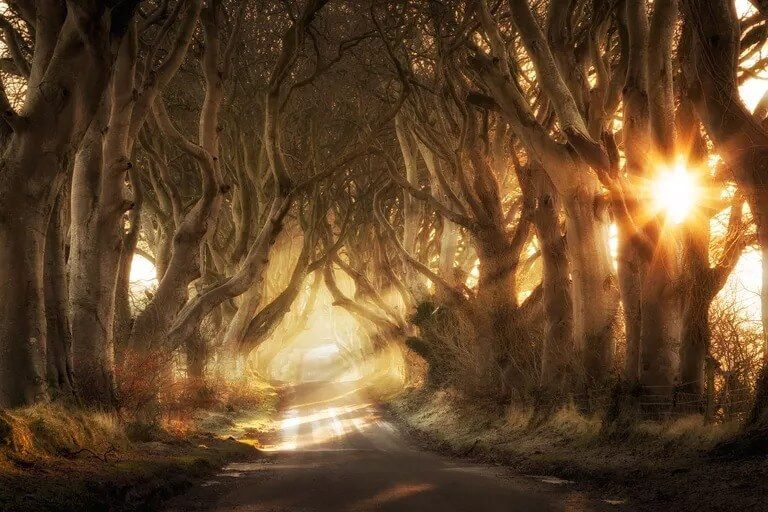 Forests cover around 30% of the Earth's land surface and play an integral role in the planet's health, but they also offer a storied place of mystery and enchantment. Rarely is a classic fairy tale told without the woods serving in a supporting role. While there are forests and woods of every stripe, some stand out for their uniqueness—like the curvy woodlands of Poland or the umbrella-shaped evergreens that occupy the island of Socotra.
Journey through some of the world's dreamiest, most extraordinary scenes with these 10 beautiful and enchanting forests.
Zhangjiajie National Forest (China)
The 8,000-plus peculiar pillar formations punctuating a sea of lush, rolling green have made this forest in China's northern Hunan Province world-famous. More than half a million tourists per year flood to the UNESCO World Natural Heritage site to witness its dense forests — covering an estimated 98% or more of the total 12,000 acres — deep ravines and canyons, and stacked peaks, often cloaked in a mystical. low-lying fog.
Zhangjiajie's signature quartz-sandstone pillars are especially unusual because they are formed by erosion due to frequent rainfall. There are numerous trails that wind through the park as well as a 1,410-foot-long Zhangjiajie Grand Canyon Glass Bridge suspended nearly 1,000 feet off the ground.
Yili Apricot Valley (China)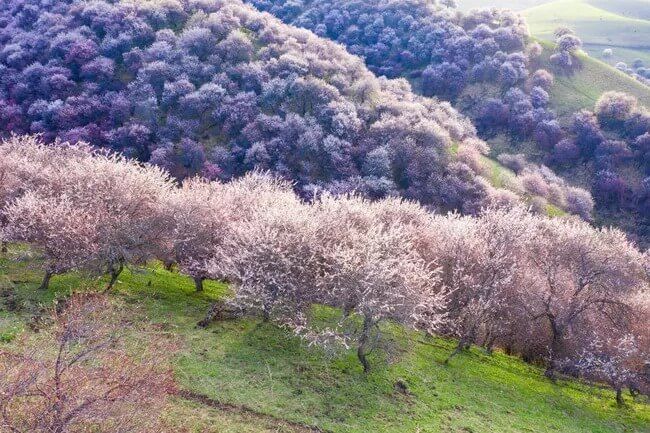 This giant forest of blushing apricot blossom-festooned trees is the stuff of joyous Disney dreams. Located in Xinyuan County, China, near the border of Kazakhstan, Apricot Valley is the largest apricot forest in the province of Xinjiang. Every year, from June to September, its vibrant pink blooms pop against the lush green of the vast, picture-perfect valley. Although Turkey, Iran, Uzbekistan, and Algeria produce more of the fuzzy, fleshy fruit, China's apricot valleys are doubtless prettier.
Avenue of the Baobabs (Madagascar)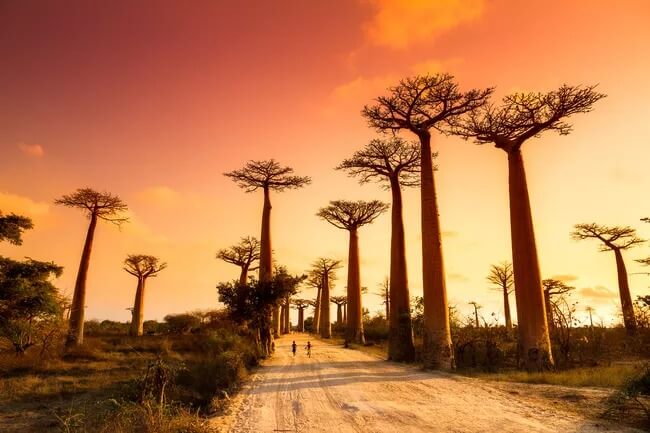 What Madagascar's scenic Avenue of Baobabs lacks in quantity (comprising only about 25 trees total), it makes up for in quality, as the small grouping of Adansonia grandidieri is a striking reminder of the island country's forest heritage. Lining a dirt road in western Madagascar, the oddly blobby baobabs can live to be thousands of years old and are known locally as renala, meaning "mother of the forest." They reach up to 100 feet tall.
The trees once stood crowded with other flora in the dense tropical forests that fruitfully covered the island. As human population spread, the forests were cleared — yet the beautifully bizarre baobab trees were spared.
The Crooked Forest (Poland)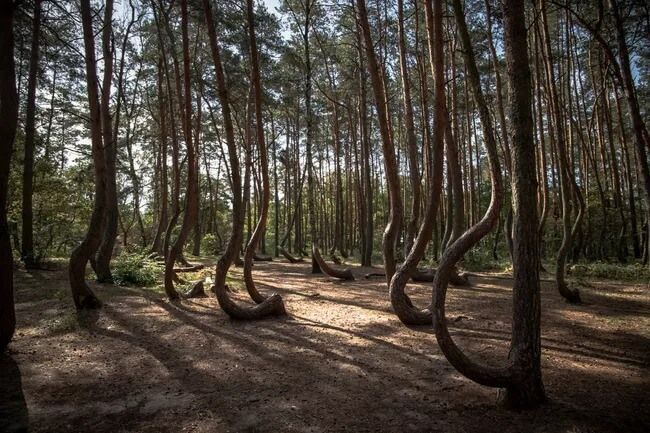 Some 400 pine trees in this now-famous grove have exaggerated crooks in their trunks. Located outside Nowe Czarnowo in West Pomerania, Poland, the Crooked Forest remains a bit of a mystery, especially because its wonky trees are contained in a forest of perfectly straight ones.
A human hand is thought to be the true culprit, though by which tools or techniques — or, better yet, for which reason — is still unknown. One theory says someone intentionally deformed the trees to create curved wood for building. Another says a prodigious snow could have caused the curves. Nobody has suggested the spell of a sorcerous, but the sight of this unique forest is magical nonetheless.
The Dark Hedges (Northern Ireland)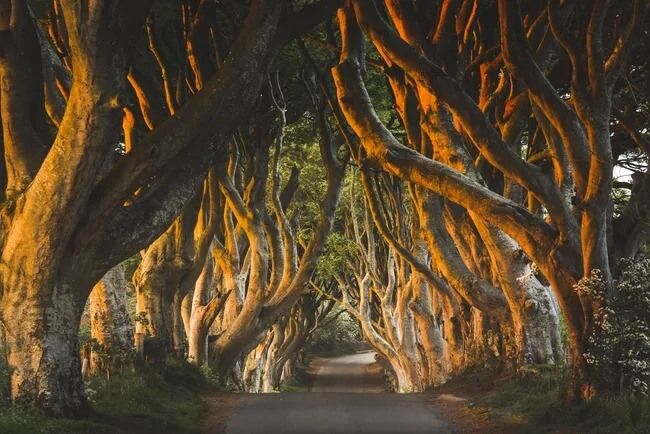 More grove than forest, this striking arcade of beech trees was actually planted in the 1700s as a landscape feature leading to a Georgian mansion, but it now serves as a solo act, attracting droves of tourists hoping to photograph the spellbinding array. You can almost imagine, upon visiting, being closed in by the trees' hefty, twisty branches as they come to life in your imagination. The Dark Hedges is so surreal, in fact, that it served as the King's Road in HBO's "Game of Thrones."
Forest of Son Doong Cave (Vietnam)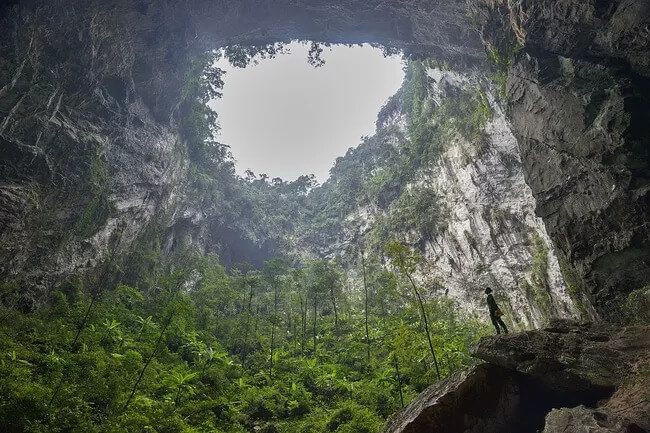 Nestled deep in the largest cave known to man is, of all things, a lush and thriving forest. Fictional as it may sound, the five-mile long cave with 500-foot ceilings comes complete with its own river — hence the name, meaning "mountain river cave" in English — and several patches of rainforest growing in the sunshine beaming through collapsed ceilings (aka dolines). Trekking through the colossal underground tunnel that is Hang Sơn Đoòng , peppered with light and life from the outside world, is a "lost world" kind of fairy tale experience.
Puzzlewood, Forest of Dean (England)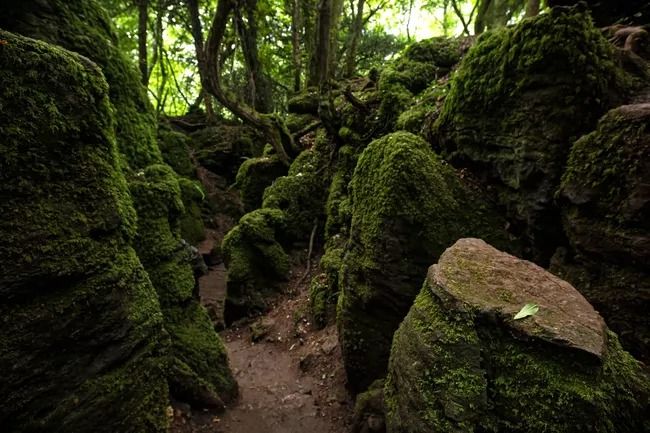 Tucked away in the Forest of Dean in western Gloucestershire, England, this incredibly evocative woodland is home to gnarled trees and twisted paths, like something straight out of "The Lord of the Rings." In fact, it is said to have inspired J. R. R. Tolkien for Middle-earth, the setting for much of the iconic series.
Especially enchanting are the moss-enshrined rock paths that snake through the woods. Likely the remains of collapsed caves, they offer this spot of forest a feature magical enough to make any wizard happy.
Dragon's Blood Forest (Socotra Island)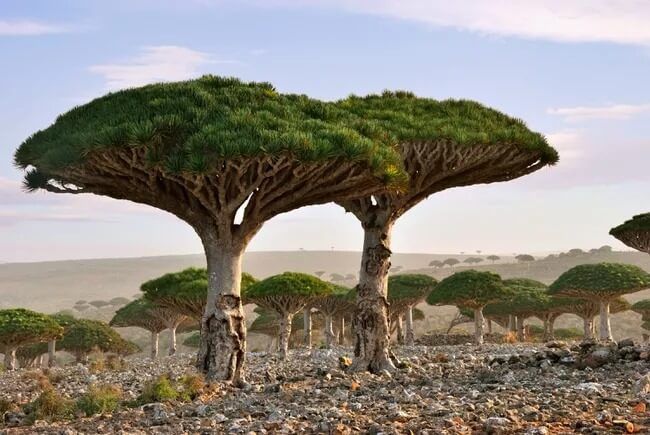 About 200 miles from mainland Yemen exists an isolated island called Socotra. On it, a strange collection of flora and fauna — including the wonderfully weird dragon's blood tree — has specifically adapted to suit the hot and harsh environment. Looking like an odd Dr. Seuss mushroom tree, Dracaena cinnabari has a curious umbrellalike orientation that enables it to collect moisture from the highland mist while also creating shade to protect the seedlings sprouting up beneath the adult tree. However, the red sap that oozes from its trunk and gives it its name is perhaps its most storybook quality.
Lake Kaindy Sunken Forest (Kazakhstan)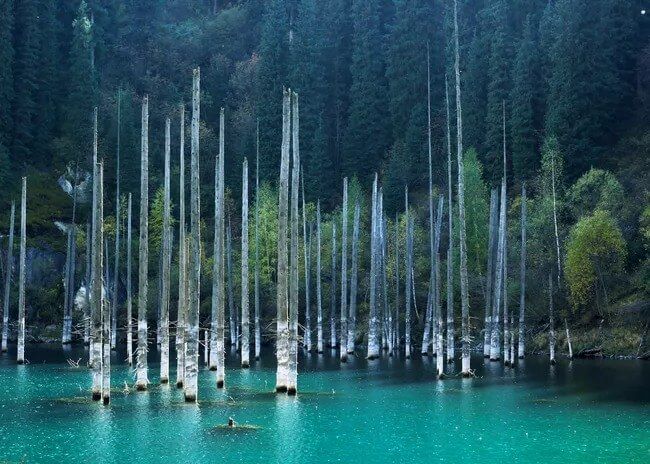 In Kazakhstan's Tian Shan Mountains sits Lake Kaindy, a 1,300-foot-long body of water created after an earthquake in 1911 triggered a landslide. As the natural dam was made, a large grove of spruce was flooded and become the hauntingly beautiful Sunken Forest, a group of ghostly, topless evergreens partially submerged in bright blue-green water. Algae now grows on the trunks, and while the trees are bare at the top, the cold has preserved the pine needles underwater, so that it still looks like a living forest beneath the surface.
Sagano Bamboo Forest (Japan)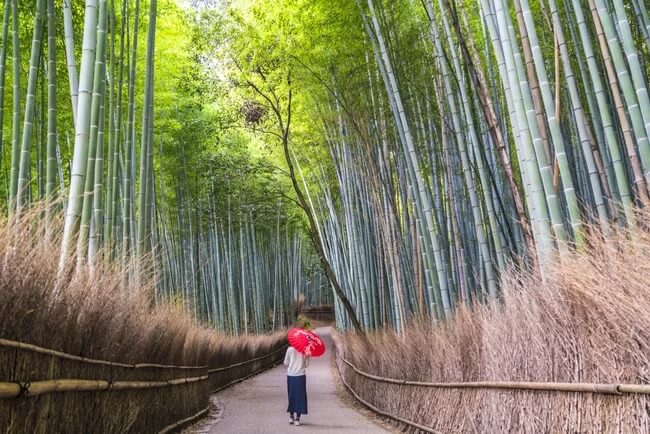 If a fairy tale were set amid the serene and lofty vegetation of Japan, the main character would no doubt live here, under the wispy canopy of the Sagano Bamboo Forest. This patch of thousands of tall and slender mōsō bamboo shoots lies on the outskirts of Kyoto. Perhaps even more magical than the light play caused by sun spilling through the leaves is the calming sound of creaking, swaying, and knocking as the wind passes through the tightly-packed trees.