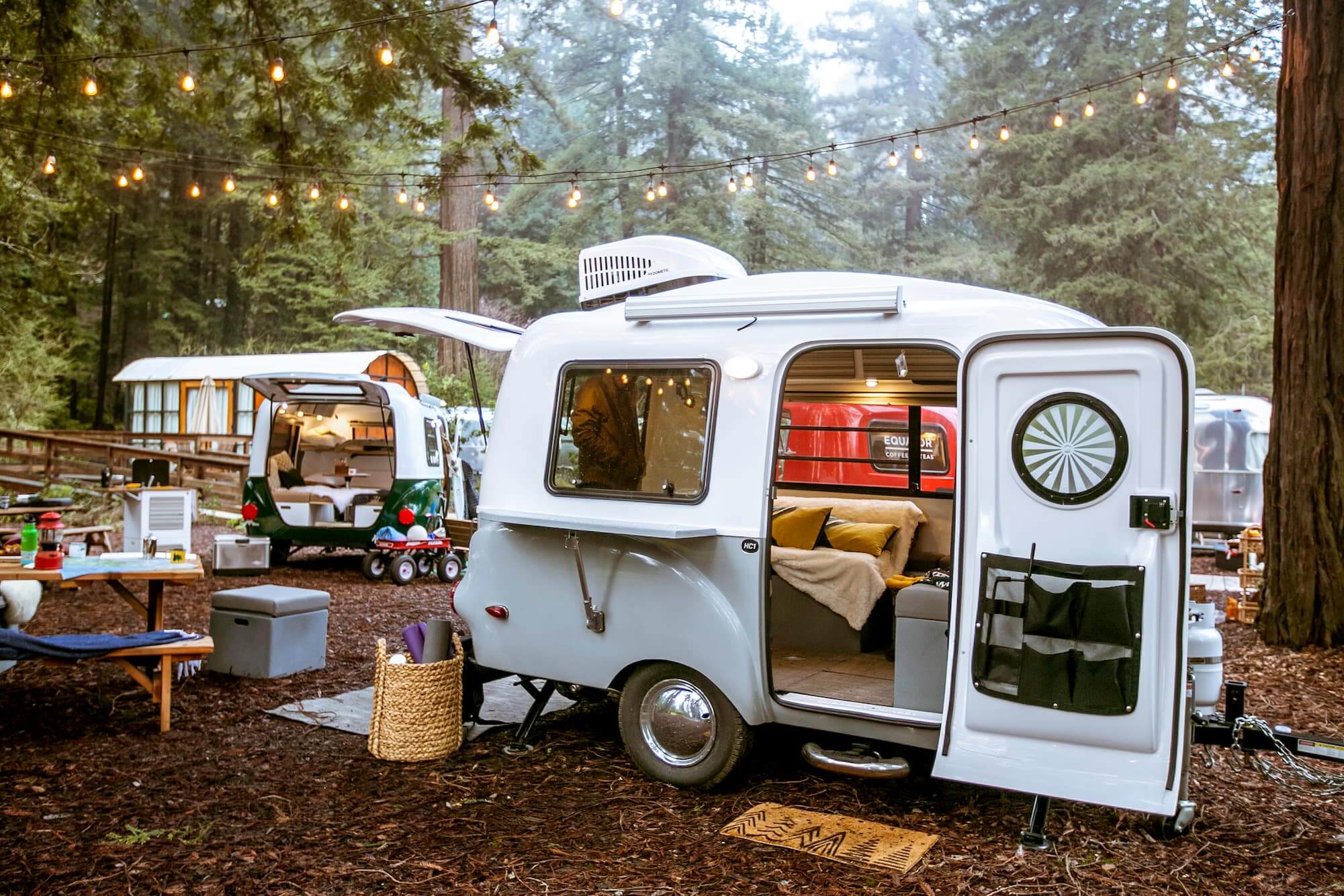 Vintage campers are popular among campers. The sight of a teardrop trailer or Airstream evokes memories of camping in the woods and listening to stories told around a dancing fire by parents or grandparents. Their charming design usually includes a classic teardrop shape, panoramic windows, soft lines, and lovely interiors. However, vintage campers are, well, vintage. Many of them contain asbestos and are difficult to transport.
Fortunately, there is a thriving market for retro campers, which have the dreamy design of an old-school camper but are outfitted with new interiors and durable, lightweight materials that make them easy to tow.
8 Vintage-Style Campers That Are Actually New
We've gathered some of our favorite modern campers inspired by "vintage" design. If you're looking to travel in style, all of these designs are available for purchase.
1. Riverside RV — Retro RVs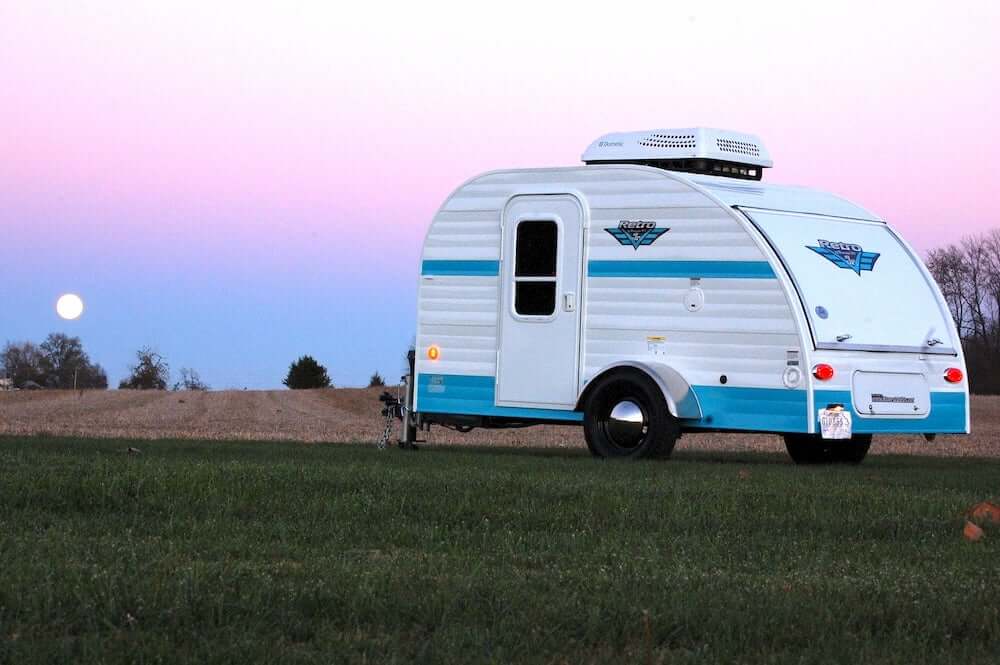 Riverside RV manufactures vintage-style campers and RVs that have all of the amenities of a new camper. They have sleek lines and curves, as well as punchy, fun color schemes, and are extremely lightweight. Riverside RV is known for producing high-quality campers with a vintage feel. This RV manufacturer produces a full line of vintage campers, including trailers, hybrid models with tent slides, and single and double axle campers and RVs. There will be no shortage of vintage campers to choose from.
2. Happier Camper — HC1 Travel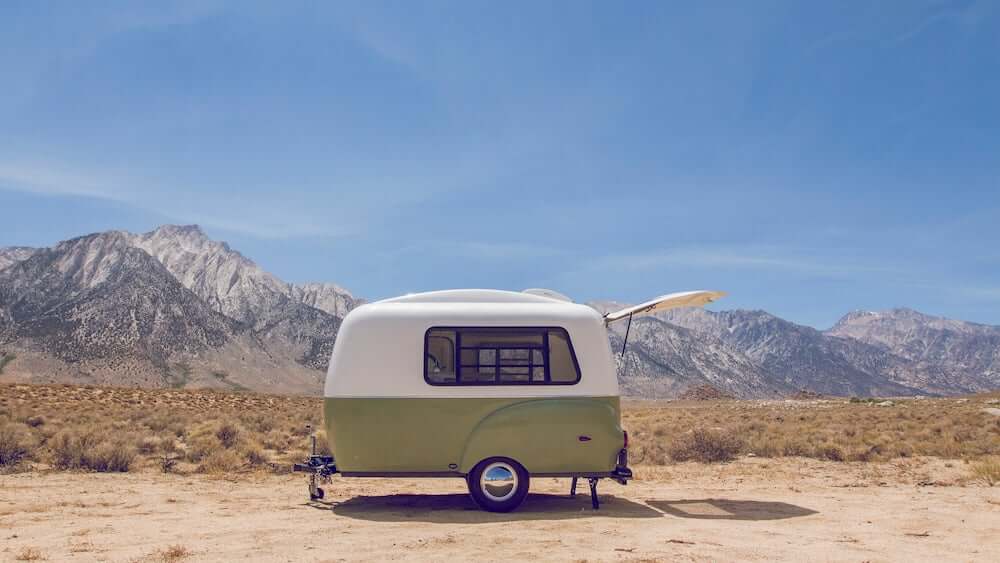 Happier Camper creates an absolutely adorable camper, and its vintage design cannot be questioned. It's a small travel and utility trailer. This retro-modern camper trailer features a large rear hatch for taking in the scenery, a wide entry door, retro wheel fenders, a honeycomb fiberglass door, and large panoramic windows. It can even accommodate a family of five. This vintage camper is expensive, but the premium design may be well worth the investment.
3. Dub Box USA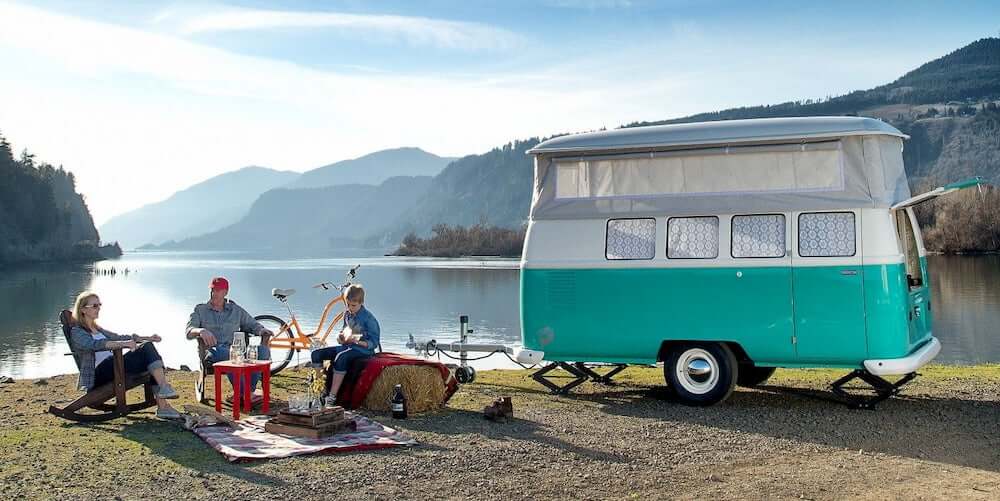 Dub Box USA manufactures three types of vintage campers: mobile culinary trailers, adventure campers, and dinky sleepers. The dinky dub sleeper with a kitchenette is our favorite. It comes with a custom queen mattress, a three-burner stove, and a hand-pump cold water system. Customizations include a roof rack, an AC/heater combo, and a pop-up top with weather curtains. Each dub box trailer is handcrafted and built specifically for the buyer. In addition, before each dub box leaves the workshop, the Owner, Heather Gardella, gives it a farewell hug.
4. Scamp Trailer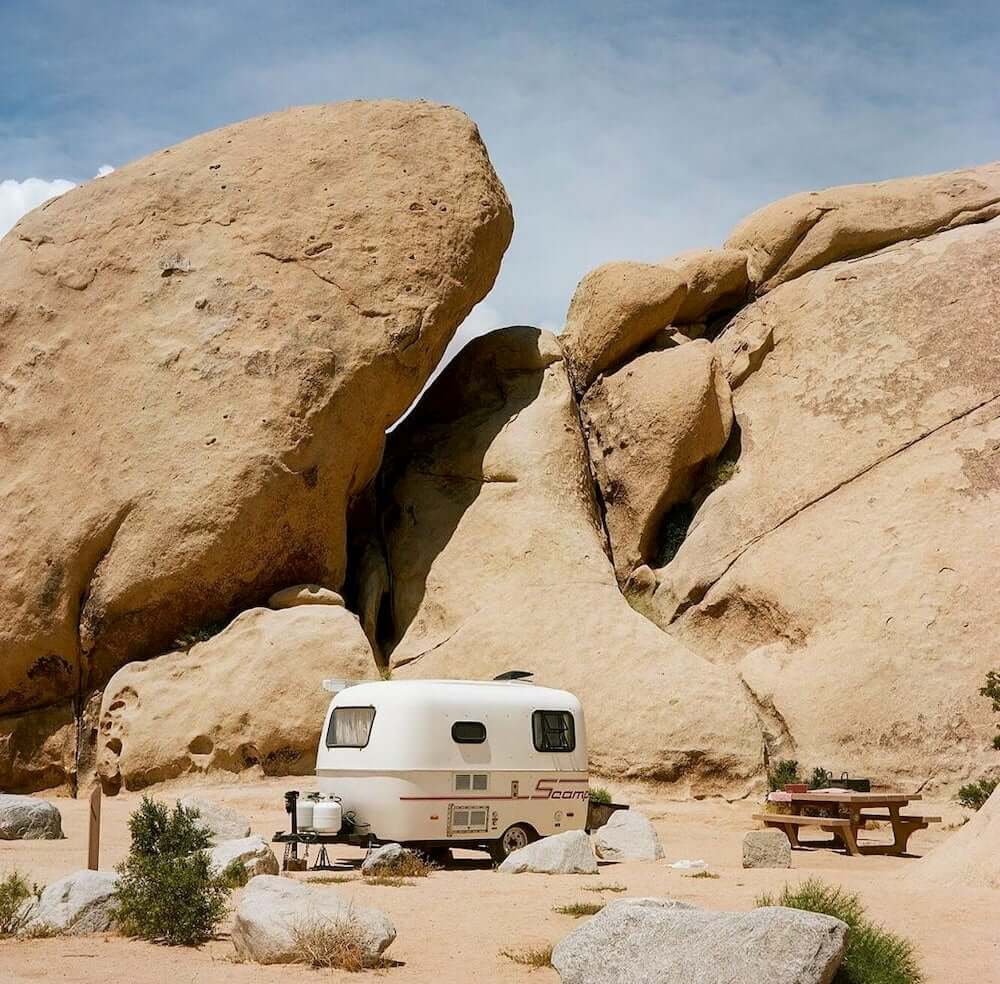 The Scamp Trailer is a great option if you want a camper that is easy to tow while remaining extremely comfortable. It is made of fiberglass and is intended to be as light as possible. To meet your needs, the Scamp Trailer is available in three sizes: 13, 16, and 19 feet. Scamp has been designing trailers since 1972 and has kept their vintage appeal. All trailers are intended to be towed by small cars, SUVs, minivans, and trucks. They are made to order.
5. T@B Teardrop Camper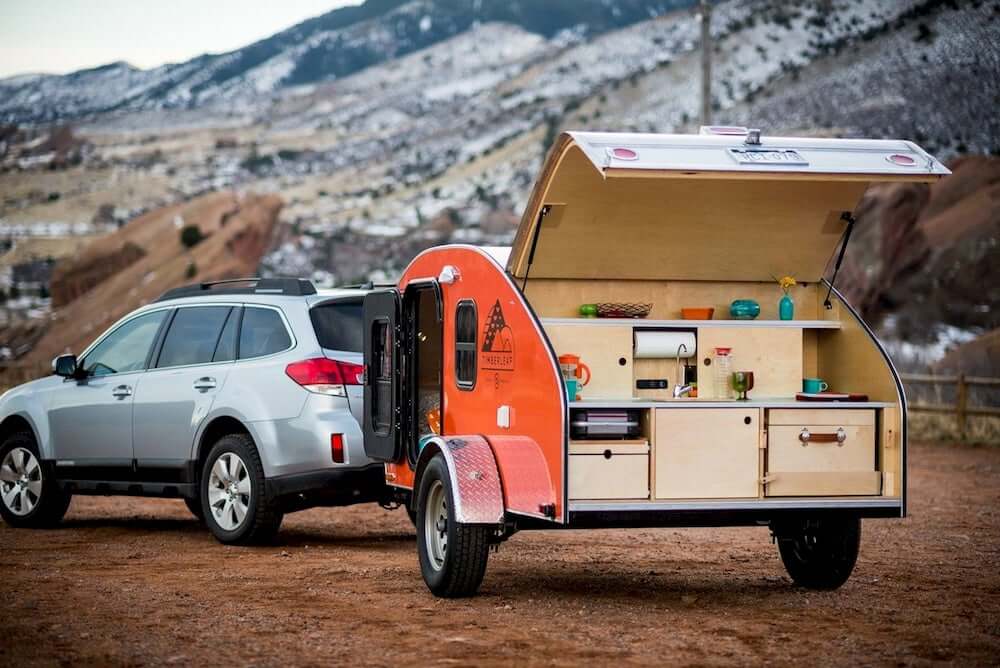 The TAB teardrop camper has a classic vintage design and is the ideal size for a weekend getaway. A galley kitchen with a U-shaped dinette that easily converts into a sleeping area can be found inside this vintage camper. There is a bathroom with a toilet, sink, and an outside shower. The Tab camper has air conditioning and sleeps two people.
6. Timberleaf Classic Teardrop Travel Trailer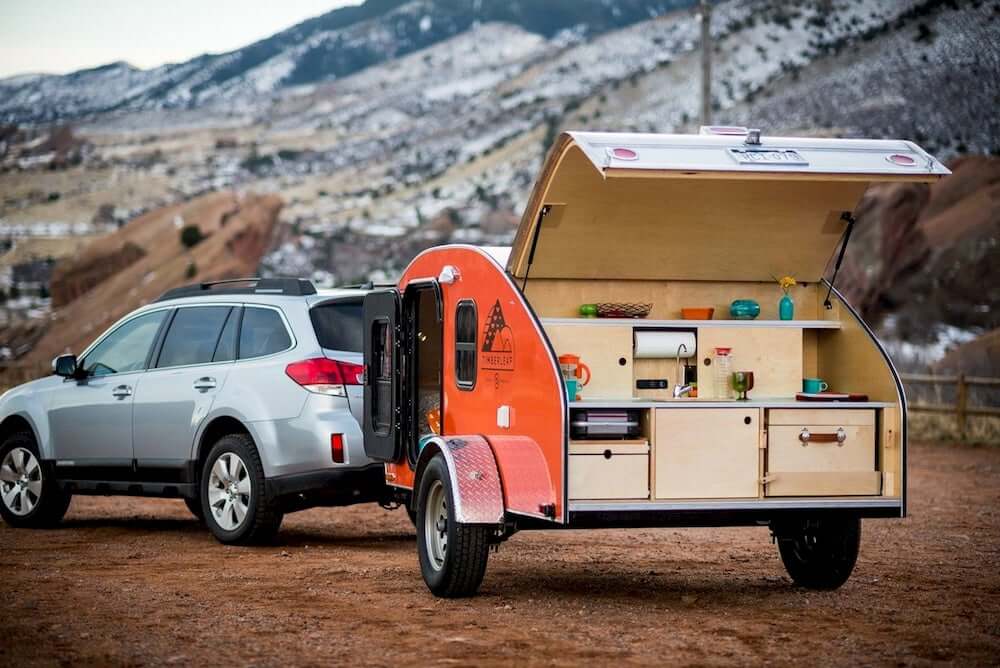 The Timberleaf Classic Travel Trailer is lightweight and easy to tow. This vintage-style trailer features a fully insulated cabin to keep wind, heat, and cold in your control. This trailer comes in red, black, orange, and brushed copper. It has a clear anodized top and enamel-baked aluminum siding. Timberleaf trailers are built to order, so you can add all-road and off-road features like independent suspension, electric drum brakes, terrain tires, and more.
7. Airstream – Bambi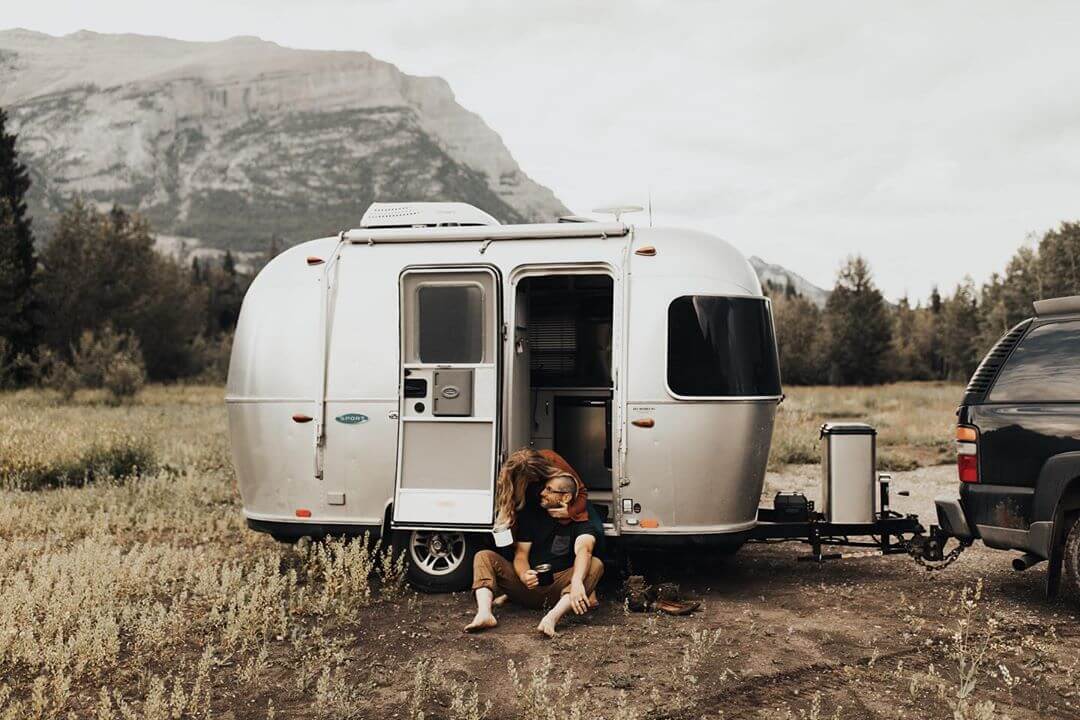 Airstream is as classic and retro as it gets. The Airstream Bambi is a luxurious camper that is expertly crafted and designed. This compact trailer is light enough to tow in an SUV, easy to maneuver, and will fit into the majority of campgrounds. Inside, the dinette doubles as a lounging area and can even be converted into an extra sleeping space. It has air conditioning and heating, as well as a solar pre-wire kit if you want to go off the grid. It also has a retractable awning. This classic camper will last a lifetime.
8. Gulf Stream Coach Vintage Camper Cruiser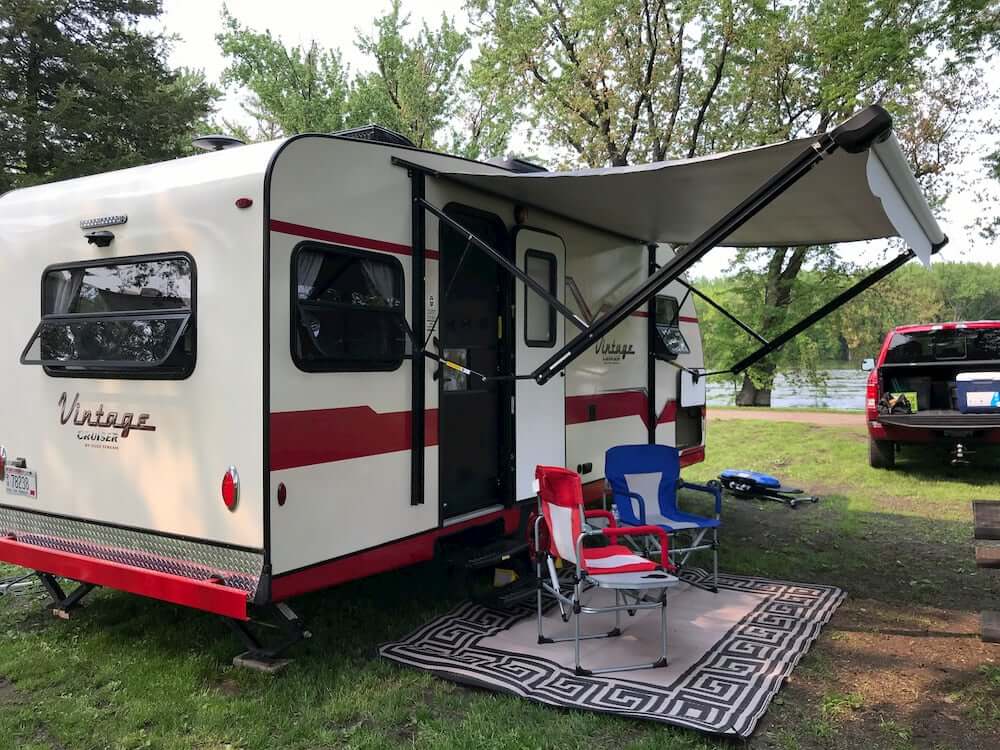 With a turquoise and white exterior and a 1950s vibe on the interior, this vintage camper by Gulf Stream captures the spirit of the 1950s. This series has laminated walls and is extremely lightweight and aerodynamic. Inside, you'll find vinyl flooring, a full dry bath, and plenty of other amenities.