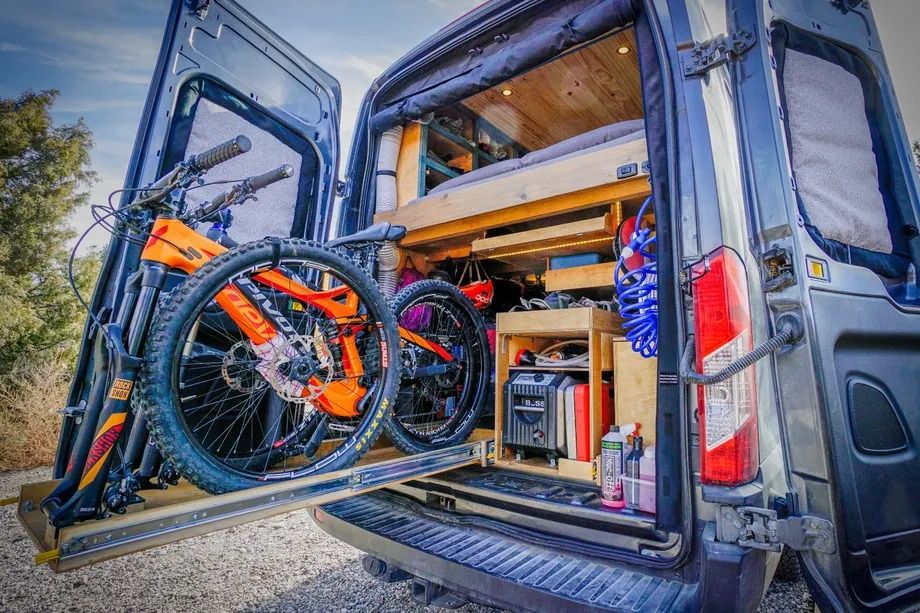 It's a story that's engrained in #VanLife lore: Dreaming of something different, an outdoorsy couple quits two successful engineering jobs and sells their house—with nearly everything in it. They build their own DIY camper van and embark on a non-stop adventure that prioritizes experiences over the daily grind.
That's the story of 36-year-old Isabelle and Antoine from Montreal, Canada. Their downsizing journey began in January 2017 by selling all their things, choosing a van, and moving into it full time in August. And while professional van builds can run well over $100,000 (including the van), Isabelle and Antoine transformed a 2016 Ford Transit into a roving home in approximately 1000 hours and $18,275 (excluding the van cost). They've also obsessively documented the process on their website Far Out Ride.
In order to live in the van full time, the couple knew they needed an off-the-grid, four season adventure van that could fit both of them. That meant insulating the van, adding a Webasto Air Top 2000 heating system and extra ventilation, and ensuring that they had solar panels and batteries to power them in the backcountry.
Benefiting from the Ford Transit's high roof and extended length, the couple sleeps on a platform bed that fits a double mattress. Storage compartments on the side help keep things organized and provide a place for clothes and gear. The interior uses knotty pine paneling to provide a natural look, and the vinyl floor is easy to sweep out to keep clean.
A galley kitchen boasts a propane range—an Atwood Vision Range that even includes an oven—and a sink with running water. A small refrigerator and freezer are powered by the solar panels attached to the roof, and the front seats swivel to become seats to a pop-up table in the modified "living room." A Nature's Head composting toilet sits under a cover in the van's central area, and the couple also uses a propane instant shower from the rear of the van when the weather is warm enough.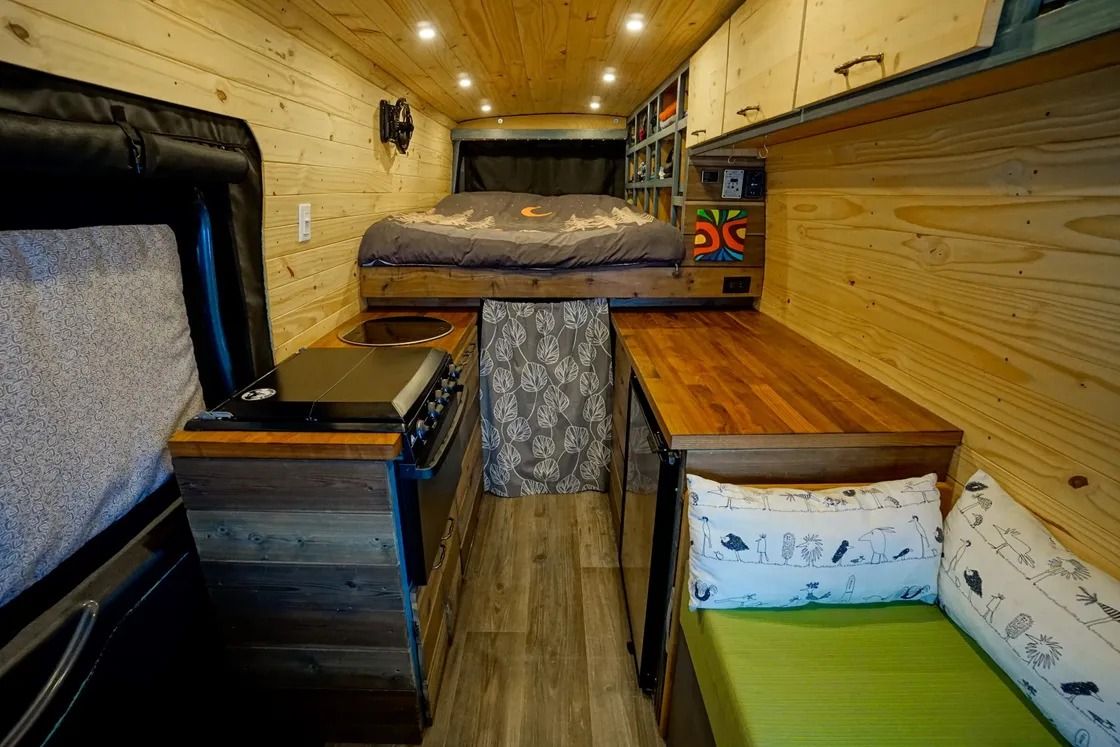 In total, the couple has now spent seven Instagrammable months in their van, even tracking the inns and outs of how much van life costs each month and how they've survived the winter months. From their blog posts to their detailed DIY build guide, the Far Out Ride website is a captivating look at the realities of van life and how to do it.
It's also refreshing to see a sweet, reasonably-priced DIY build and a couple who is more interested in playing outside—and providing practical advice—than in being "influencers." Take a look at the photos below and follow Far Out Ride on Facebook for more.