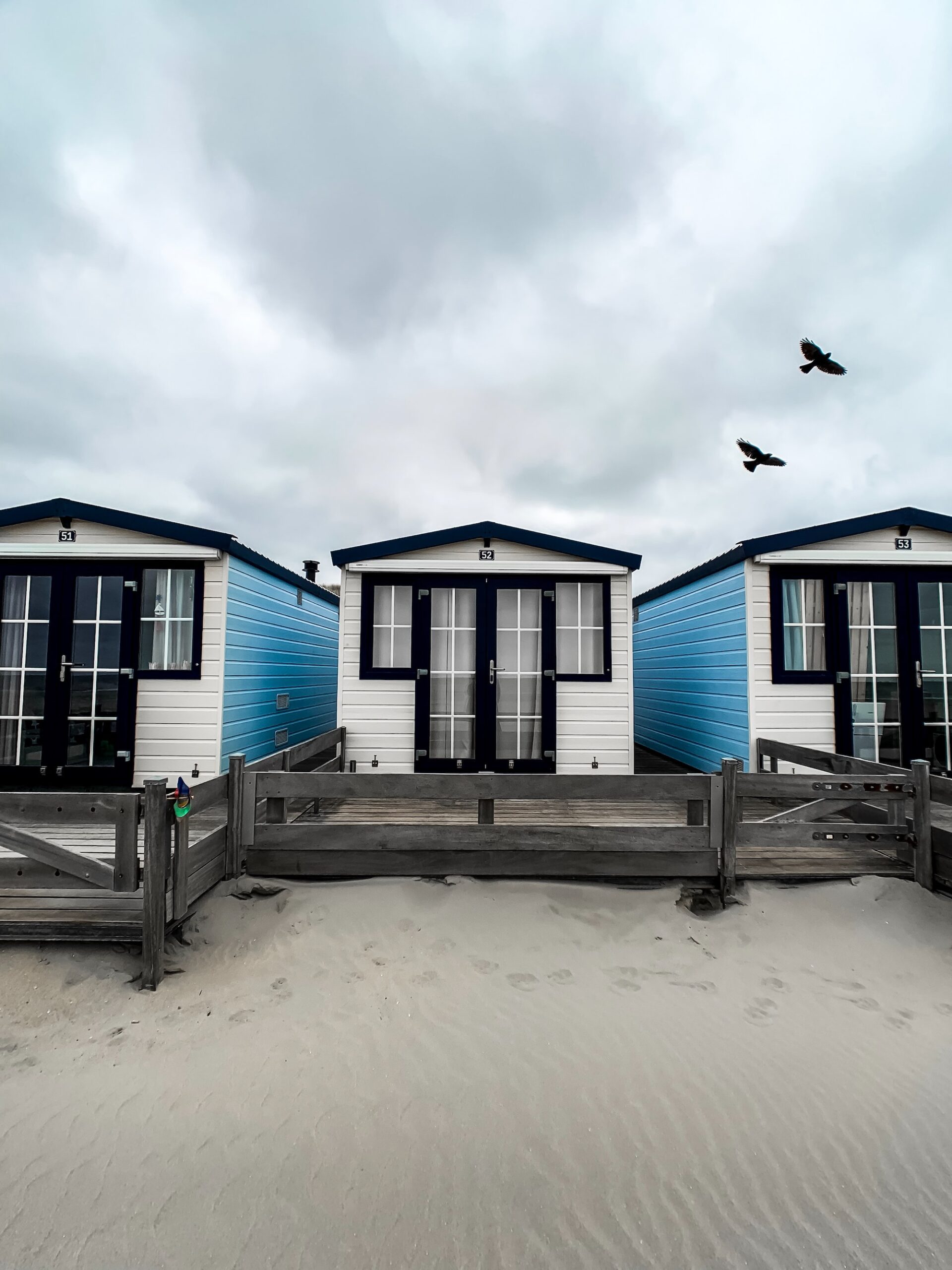 Did you know living in a mobile home is rising in popularity?
Today, the majority of mobile-home residents are between the ages of 18 and 29 while the second-largest group is between 50 and 59.
This means that this option appeals to a wide variety of individuals.
Even if they're not your cup of tea personally, there's a lot to know about these homes.
In this blog, we'll discuss the ins and outs of living in a mobile home.
Let's get started.
1. WHAT IS A MOBILE HOME?
Mobile homes, also known as manufactured homes, are constructed by trained building professionals in a controlled environment.
It generally takes 2 to 3 months for a mobile home to be built, and its streamlined schedule and stockpiled materials make this an efficient and inexpensive process.
The average cost of a mobile home is around $49 per square foot.
This is right around half of what it costs per square foot of the average traditional home.
Once mobile homes are built, they are transported to the site where they will be connected to local power, water, and sanitary systems.
They will then be attached to a permanent foundation or their underlying chassis may be "skirted" by blocks or siding to make them virtually indistinguishable from traditionally-build homes.
2. WHAT ARE THE PROS OF BUYING A MOBILE HOME?
Mobile homes are safe and quality-controlled
Mobile homes are built under a HUD code that was adopted in 1976.
This is the only federally mandated and administered code that exists, and it was specifically developed to address the factory production process that is used to produce mobile homes.
It helps homes meet standards for structural design, construction, fire safety, energy efficiency, and transportation from the factory to the customer's home site.
This HUD code is sometimes termed the most stringent certification process in the manufactured housing industry, so you can feel safe and reassured that your mobile home will be safe and quality controlled.
Mobile homes are affordable
The average cost of a mobile home is significantly lower than a traditional home, which makes it appealing to buyers that may not have the resources to purchase a stick-built home.
Mobile homes are one of the largest sources of non-subsidized affordable housing in the nation.
In fact, mobile homes can be cheaper than renting an apartment!
As noted above, the average cost per square foot of a mobile home is right around half of the average of a traditional home that is built on site.
Who wouldn't love a deal like that?
Mobile homes are a speedy alternative
How often have you heard that construction takes twice the time and twice the money?
Construction often encounters delays and extra costs, and this can be difficult for the buyer.
Mobile homes, however, are a straightforward manufacturing process.
These homes are constructed in factories on assembly lines, which means they can turn out high-quality homes in a relatively short period of time.
You don't have to fret that your mobile home won't be ready.
Mobile homes are environmentally sound
This may come as a surprise, but mobile homes are generally as energy-efficient as traditional homes.
Manufacturers do what they can to test out new materials and techniques to improve their products regularly.
Mobile homes allow you to have flexibility in your design
When you select a mobile home, many manufacturers will allow you to choose a layout or customize it at an additional cost.
This cost is still much less than it would be to buy or build a stick-built home, and you get everything you want.
Mobile homes are often in parks, which give owners a sense of community
Mobile homes that reside in mobile home parks provide sense of community.
While their home itself is independent with its own space (driveway, backyard, and detached walls), they still have plenty of opportunities to interact with other individuals nearby.
Living in a mobile home often offers the ability to form social clubs, do group activities, and have caring neighbors.
3. WHAT ARE THE CONS OF BUYING A MOBILE HOME?
Mobile homes require the right kind of land
When you have a mobile home, you need to put it on land with proper access and existing utility service.
This isn't always possible in some areas (especially if it is rural).
The cost of access and site preparation may make mobile homes difficult or cost-prohibitive.
Mobile homes sometimes bring a stigma with them
Some areas still retain a bias against mobile homes (despite modern manufacturing methods and designs improving their reputation).
This bias means that many communities specifically ban mobile homes outside of mobile home parks.
Fortunately, things are changing – albeit slowly.
Many areas are revising their zoning requirements to allow mobile homes as a way to meet affordable housing needs.
Mobile homes have specific lender requirements
Mobile homes are often considered personal property rather than real estate, and this affects buyer plans and financing options.
This means that mobile homeowners are often not eligible for typical mortgages.
Instead, mobile home buyers must either take out a personal loan or go to a mobile home specific lender.
Mobile homes don't have the best long-term value in some locations
Mobile homes can have a significantly lower value than traditional homes.
Sometimes this can be a good thing, and sometimes it can be a bad thing.
For taxes, it may mean that property taxes are also low.
However, long-term appreciation of the home is often lower than it is for traditional homes.
4. WHICH STATES HAVE THE MOST MOBILE HOMES?
In some states, mobile homes are more popular.
Here are the top spots for mobile homes.
South Carolina (17% of housing)
New Mexico (16% of housing)
West Virginia (15% of housing)
Mississippi (15% of housing)
Alabama (14% of housing)
Wyoming (13% of housing)
North Carolina (13% of housing)
Louisiana (13% of housing)
Arkansas (12.5% of housing)
Kentucky (12.5% of housing)
While some of these states are also some of the poorest states in the U.S., the high rate of mobile homes doesn't always line up with income.
Not everyone who lives in a trailer park is poor.
In fact, there are plenty of spots where living in a mobile home community doesn't have a stigma at all.
Michigan and Florida are two of these locations.
Some people like living in mobile home parks just because of how affordable it is or because it provides them a built-in community with neighbors they enjoy hanging out with.
5. HOW DO YOU BUY A MOBILE HOME?
Are you interested in buying a mobile home?
You're not alone!
These homes offer all the comforts of a traditional home at the fraction of the price.
Here's the process you should follow for buying a mobile home.
Decide on your location
You have a few options when it comes to the location of your mobile home.
You can buy a lot, rent a lot, or become a part of a mobile home park or community.
Each has its own benefits and drawbacks.
If you buy a lot, you'll have to factor the cost of a septic system, electrical connections, well, etc. into your startup costs.
You'll also need to make sure that you are buying a lot in a location that allows mobile homes.
If you rent a lot for your mobile home, then you likely won't need to be worry about utilities as these costs will likely be covered by your monthly rent (although double-check!).
However, the monthly lot rent will be a permanent expense.
If you join a mobile home park or community, you'll likely have a lot of these amenities included, but you won't have as much freedom or space because you'll be living around other people.
There isn't necessarily a "right" decision.
You'll just have to choose what you want based on your financial situation and whether you're comfortable having close neighbors.
Shop around
Many people have a false impression that all mobile homes are the same.
Yes, mobile homes are generally inexpensive, but some are nicer than others.
To start with, there are two primary kinds of mobile homes:
single wide
double wide
As the names suggest, double wides are twice as wide as single wide.
When it all comes down to it, you'll get what you pay for.
Just like traditional homes, mobile homes come in a variety of shapes, sizes, and levels of luxury.
By shopping around, you'll be able to do research to find the perfect mobile home style for you.
Get insured
Make sure you invest in mobile home insurance so you can protect yourself against the unknown.
Often, mobile home insurance will protect you against:
Coverage of water, fire, and wind damage
Liability for personal injury
Theft of your belongings
Although mobile home insurance coverage is similar to standard household insurance, it is often more expensive than household insurance.
Additionally, you'll want to do your own research before purchasing any insurance.
Real estate agents often offer you insurance as part of a package deal, but you rarely get the best deal by accepting this offer.
Donate and recycle
Traditional homes often have a lot more storage space than mobile homes.
You won't have a basement, attic, or as many closets.
As a result, before transitioning to a mobile home, you'll need to donate and recycle any clutter or extra items that aren't absolutely necessary.
Personalize your new home
Mobile homes aren't "one-size-fits-all."
You will be able to design and personalize your mobile home and make it yours.
Here are just some of the elements you'll be able to design on both the interior and exterior.
Exterior: Colors, siding, roof, porch, windows
Interior: Floor plans, kitchen, bathroom, living room, paint color
6. HOW DO YOU MAINTAIN A MOBILE HOME?
One of the top mobile home living tips is ensuring that you follow up with maintenance.
Here are some of our top tips to keep your home functioning just as it should.
Check to make sure your home is level
Each year, you need to make sure that your mobile home is level because they can settle over time.
If your mobile home is not properly level then it can cause issues in your doors, windows, walls, and plumbing.
This is absolutely worth double-checking!
Don't skimp on skirting ventilation
A mobile home's skirting is its perimeter encloser.
Its skirting acts as an insulate for the entire home as well as protection for its residents from pests.
On top of all of that, it adds curb appeal.
Maintaining this is essential to the well-being of your home.
Repair and replace your roof
You should reseal or recoat your roof every year to ensure it stays in good condition.
If you need a roof repair, do not delay!
This is something that can extend the life of your mobile home or jeopardize its life if it is not attended to.
Know the plumbing differences
While most of the same concepts apply in a mobile home as a site-built home, not everything is will be exactly as you expect.
Spend time getting to know your mobile home and its plumbing, so you can fix anything as needed or notice when anything is wrong.
Learn how to inspect your mobile home
Your DIY inspection will never replace a professional inspection, but you can do a great job when need-be.
In fact, you should inspect your home regularly, so you know what looks right and what looks wrong.
Here's a quick checklist, so you can do your own regular home inspections.
When in doubt, call a professional!
Are the I-beams bent or rusted?
Is the wood floor framing damaged or rotted?
Are the masonry piers cracked, chipped, or otherwise damaged?
Are the masonry piers in contact with the steel frame?
Are the masonry holes in blocks used in the piers facing upward or sideways?
Are wooden wedges present between the pier cap and the steel frame?
Is there perimeter blocking located underneath large wall openings such as sliding glass doors and windows greater than 4' in length?
7. HOW IS A MOBILE HOME DIFFERENT FROM A TINY HOME?
Both tiny homes and mobile homes are smaller than the average home, which makes them a great way to downsize and live a more conscious lifestyle.
Mobile homes tend to be more affordable and have more space.
This makes them a more comfortable living option for those who aren't ready to embrace the tiny home lifestyle entirely.
That said, despite their name, mobile homes are not as mobile as a tiny home.
Tiny homes are much easier to move from place to place and are highly attractive to those seeking a nomadic lifestyle because they are self-sufficient and environmentally sustainable
If you are interested in a mobile home because it has "mobile" in the name, you may consider a tiny home first.
While the initial cost of a tiny home is higher, you will save on utilities in the long-run, and you can take it wherever you want to go.
FINAL THOUGHTS
Do you think you're cut out for living in a mobile home?
The rising popularity of mobile and manufactured homes, as well as their waning negative reputation, indicates that more and more buyers are interested in this style of living.
If something in this article appeals to you, why not start looking?
A mobile home could be in your future!