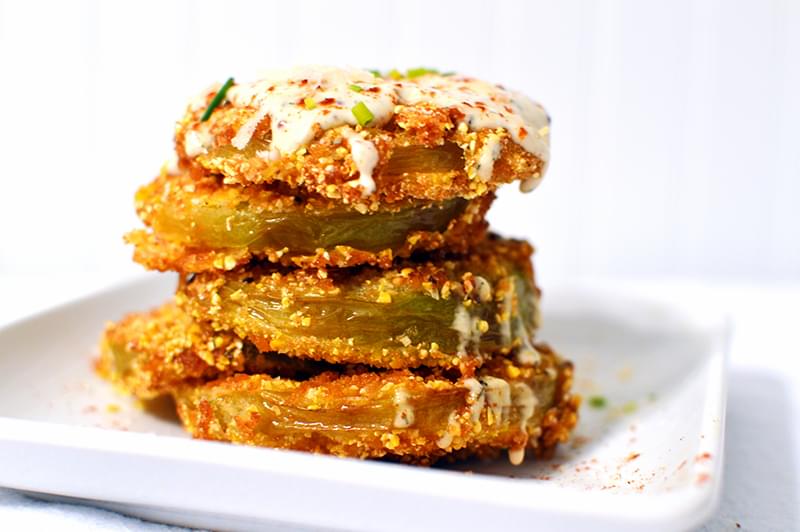 Well I thought it was time for another Fried Green Tomato recipe! I see these on Southern menus all the time, but I always make a reason not to get them, like I can easily make these at home. I try to eat semi-healthy [MOST of the time]… so I always find a reason not to order. (Except maybe on a special occasion)
So anyways, I picked up some green tomatoes Saturday and brought them home.. thinking maybe I'd fry 'em up at some point over the weekend.
It didn't take long… our spaghetti dinner plans changed after I decided to make these bad boys. I researched a bit online to find some good recipes, but then ended up getting a good idea of what I needed.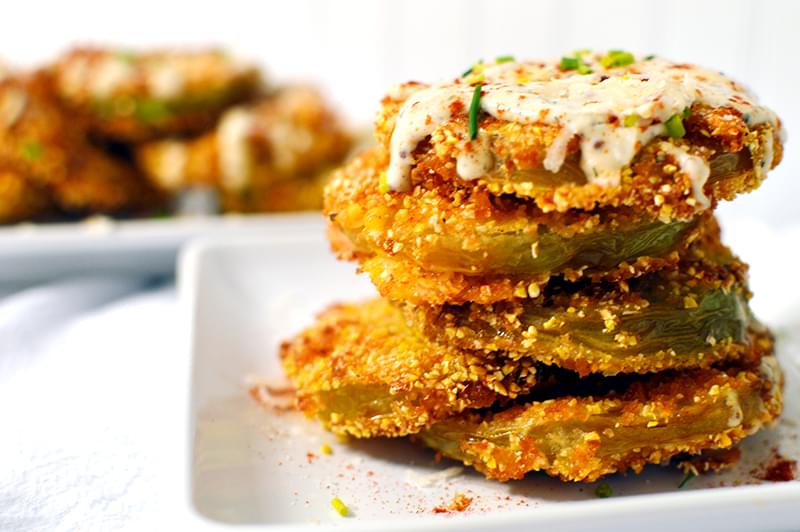 First, I learned to make sure they are dried off after they are sliced and before they're fried. I salted the tomatoes before I prepared the batter bowls, and dried them off right before I dredged them. The salt helps bring the moisture out before they get all battered up!
I dredged the tomatoes in flour, then an egg/buttermilk mixture, and finally in a cornmeal/Panko breadcrumb mix. I have some nice little Pampered Chef Breading trays, which can be found on Amazon here. They're lightweight, and perfect for setting up a little dredging station. 🙂
The layers of the batter made a perfect crunchy outer layer for the tomatoes. The eggs/buttermilk acts as a glue for the tomatoes and the batter, and they turned out just swell! The batter stayed on nicely, and they had a wonderful, warm, salty crunch.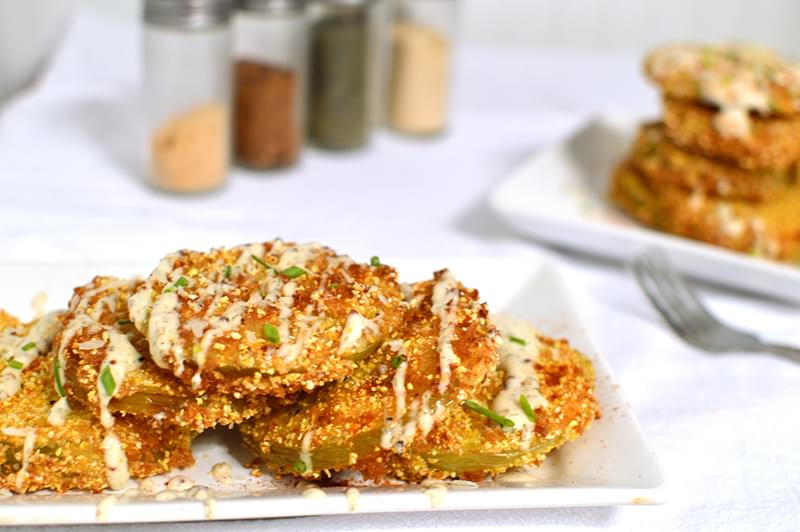 My favorite place around here to get fried green tomatoes is the Original Oyster House in Gulf Shores. They had this dish called "Fried Green Tomatoes Bayou Style" with this amazing shrimp remoulade sauce on the top. I don't think they have it anymore as I was just looking at their menu, but I found a picture I took of the a few years ago. Oh M Gee. So good.
Makes my mouth water!
Also, one of my first posts was a fried green tomato w/ shrimp remoulade sauce — click to view it!
If you've never had a fried green tomato, I suggest you get your southern on, and get to it!
Indulge. You won't regret it!