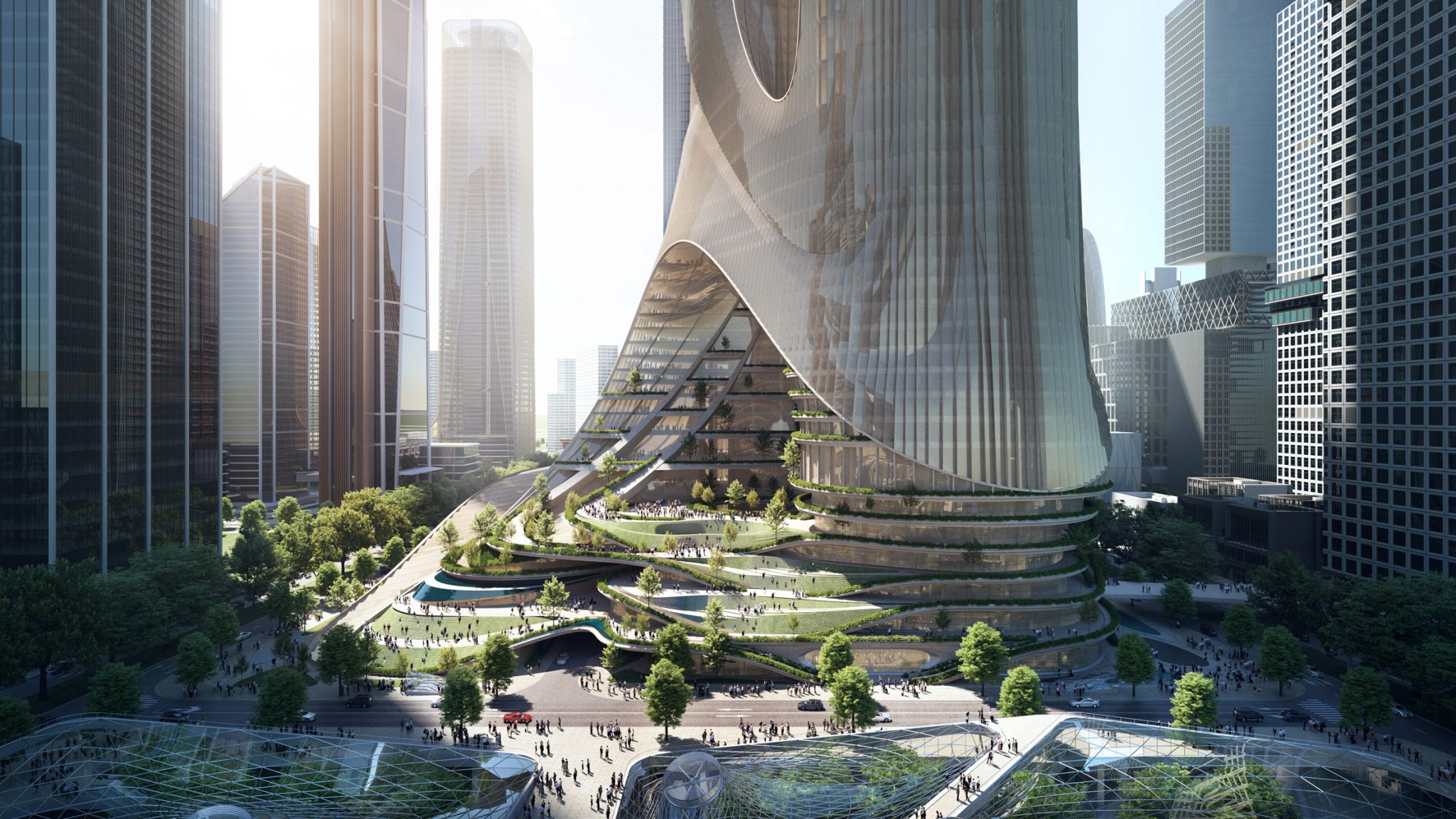 A pair of supertall skyscrapers united by planted terraces will define the mixed-use Tower C development, which Zaha Hadid Architects is designing for Shenzhen, China.
Designed for a new financial centre called the Shenzhen Bay Super Headquarters Base, Tower C is set to become one of the tallest buildings in the city at nearly 400 metres in height.
Linking its two towers will be a multi-storey podium composed of a series of sinuous terraces, each filled with greenery and aquaponic gardens – a system involving growing plants in water.
This has been developed by Zaha Hadid Architects to form an extension of an adjacent park and offer the city a new public space.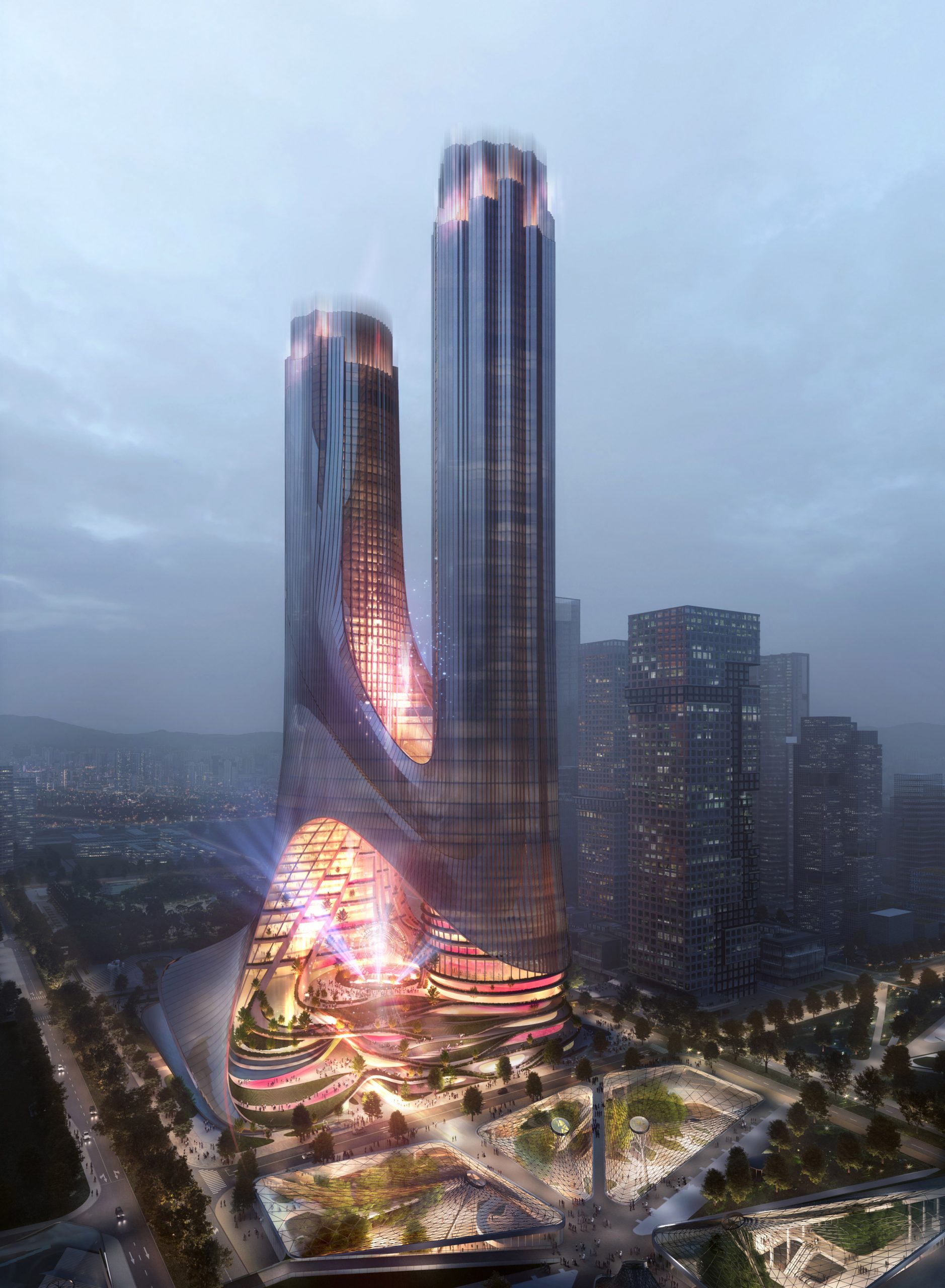 Tower C was the winning entry of an undisclosed competition and will form part of a group of corporate office buildings in the Shenzhen Bay Super Headquarters Base, which will accommodate approximately 300,000 people when complete.
Alongside office buildings, this district will also feature conference centres, exhibition spaces and residential blocks, alongside a transport hub, gardens and a "coastal zone".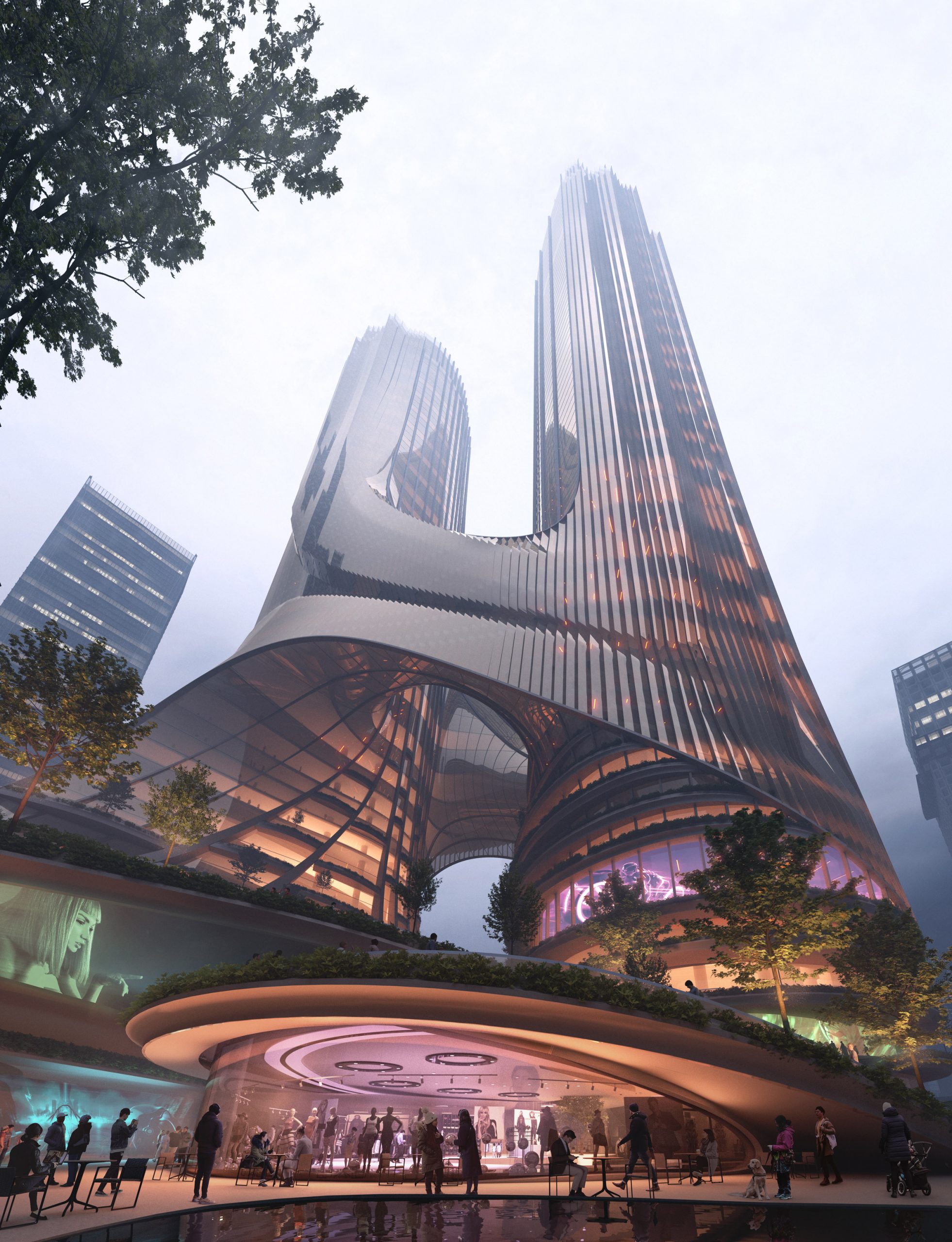 Zaha Hadid Architects will enclose Tower C with a glass curtain wall with a distinctive stepped finish, designed to help the building self-shade. The glazing will also incorporate operable cavities to facilitate natural ventilation.
Other construction materials utilised across the scheme are expected to include ones that have been recycled or have a low amount of embodied carbon.
Inside, Tower C will comprise a mix of "column-free, naturally-lit" office spaces, alongside a collection of public entertainment facilities, a hotel, convention centre and art galleries.
Visitors will be encouraged to travel to it by bike or public transport, supported with the provision of "extensive" bike storage facilities and direct links to an underground interchange and the Shenzhen Metro network.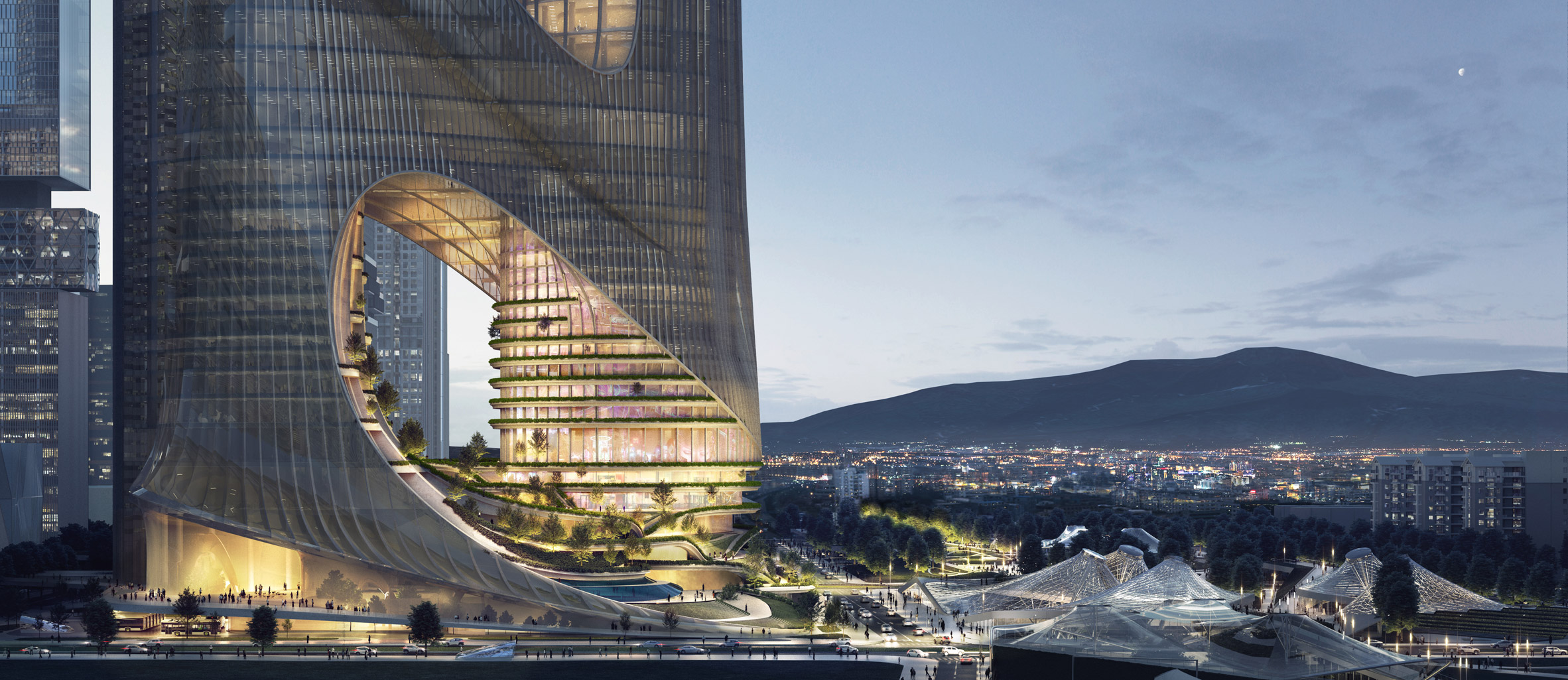 The scheme will be complete with a water-collection and recycling system and photovoltaics that will harvest solar energy to make electricity for the whole district.
A "smart management system" that will monitor the external and interior conditions of the buildings will also be used to automatically adjust heating in the building and minimise its energy consumption.
Tower C is one of several buildings that Zaha Hadid Architects, the studio founded by late British-Iraqi architect Zaha Hadid, is currently developing in China under its new director Patrik Schumacher.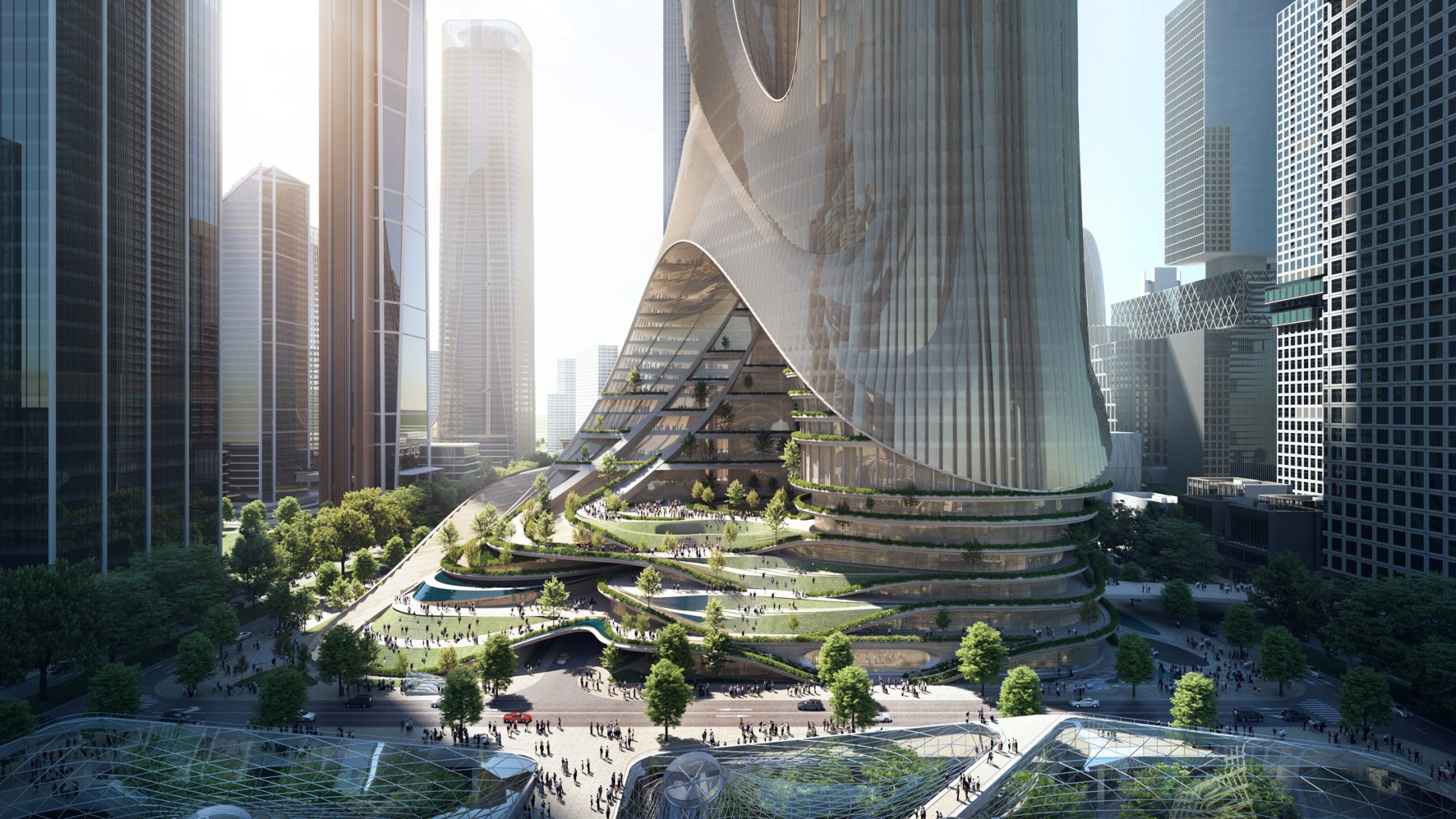 Visuals are by Brick Visual, courtesy of Zaha Hadid Archtects.