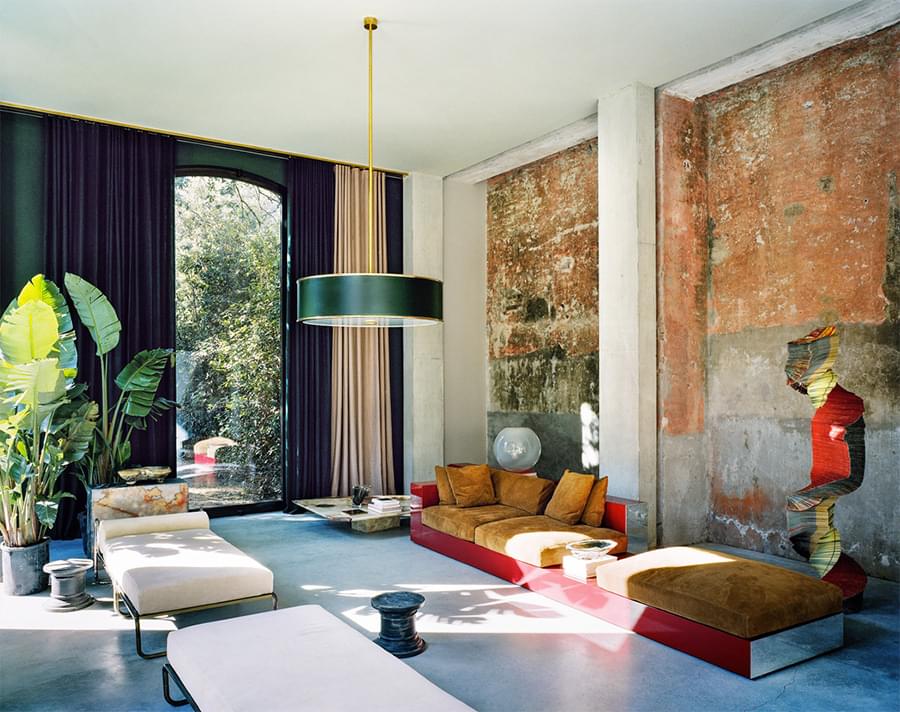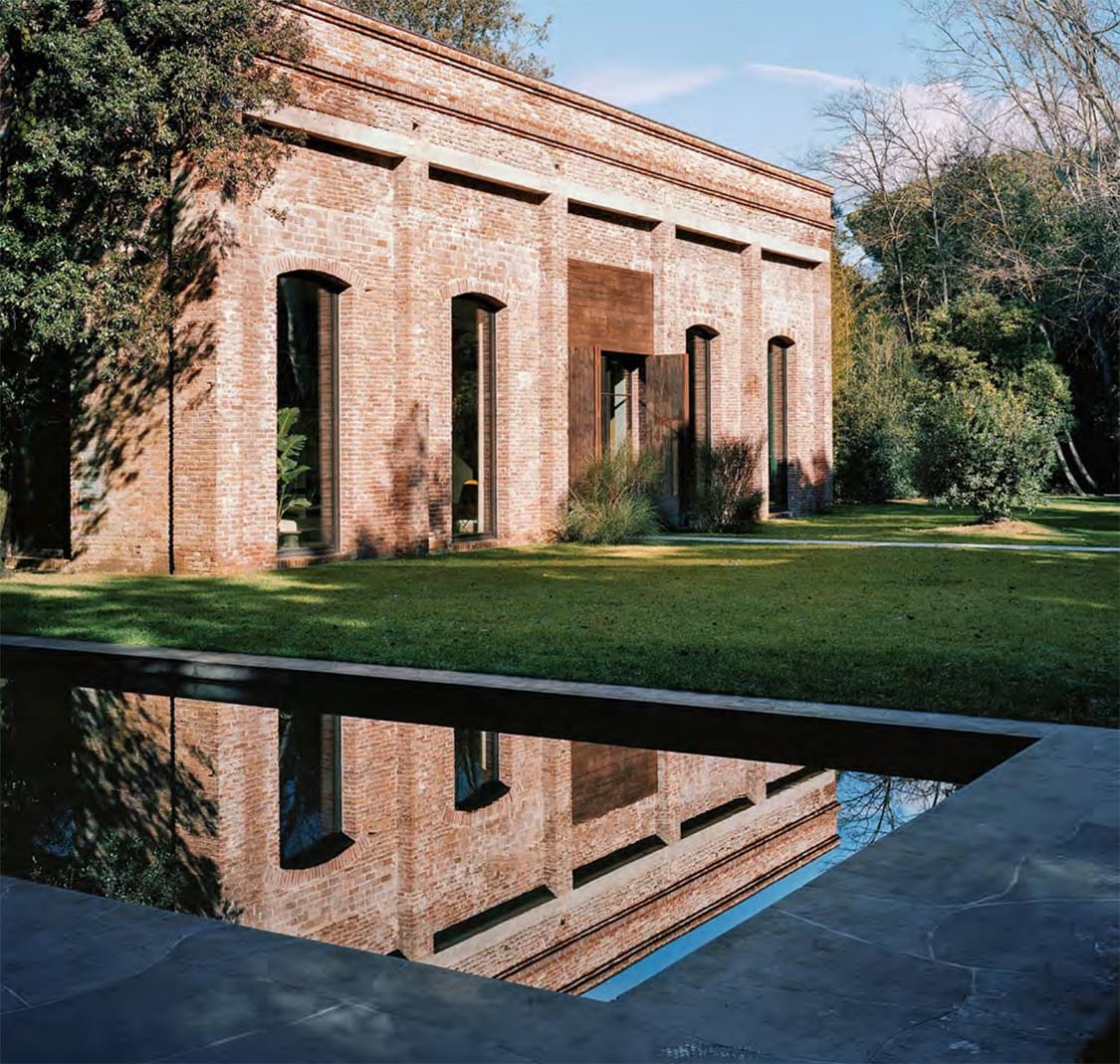 The soon 60 year-old Gonzaga-born, Milan-educated Italian designer and architect, Vincenzo De Cotiis, is a master of the kind of balance we love.
We mean the ability to combine elements that 'don't belong' without being pretentious or too obvious about it. No fake-looking touches of color or odd furniture. No startling or forced discord. No conflicting messages. It is a difficult skill but De Cotiis is very good at it.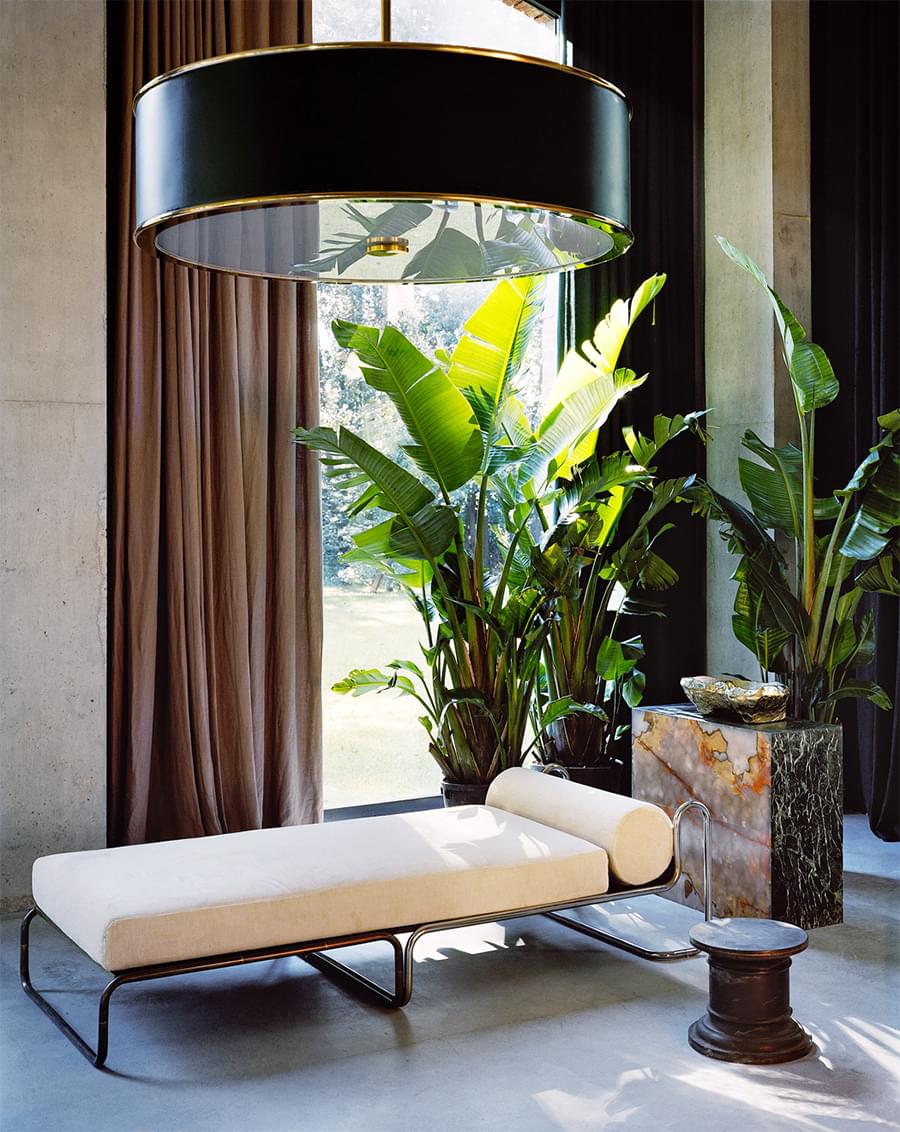 He is particularly exceptional because he uses reclaimed, recycled, reconstructed and re-worked materials and components – wood, metal, leather, stone, textiles – in all of his work. His style is rough and raw, sophisticated and brutalist, all at the same time.
Prime example of this is the private luxury holiday residence he created out of a historic boathouse in Forte dei Marmi in the province of Lucca in northern Tuscany. This is a former fishing port and marble-warehouse town where stars and Europe's cultural elite have now resided and holidayed for decades. Among them are Italian tenor Andrea Bocelli, fashion icon Giorgio Armani, British writer Aldous Huxley, and sculptor and artist Henry Moore.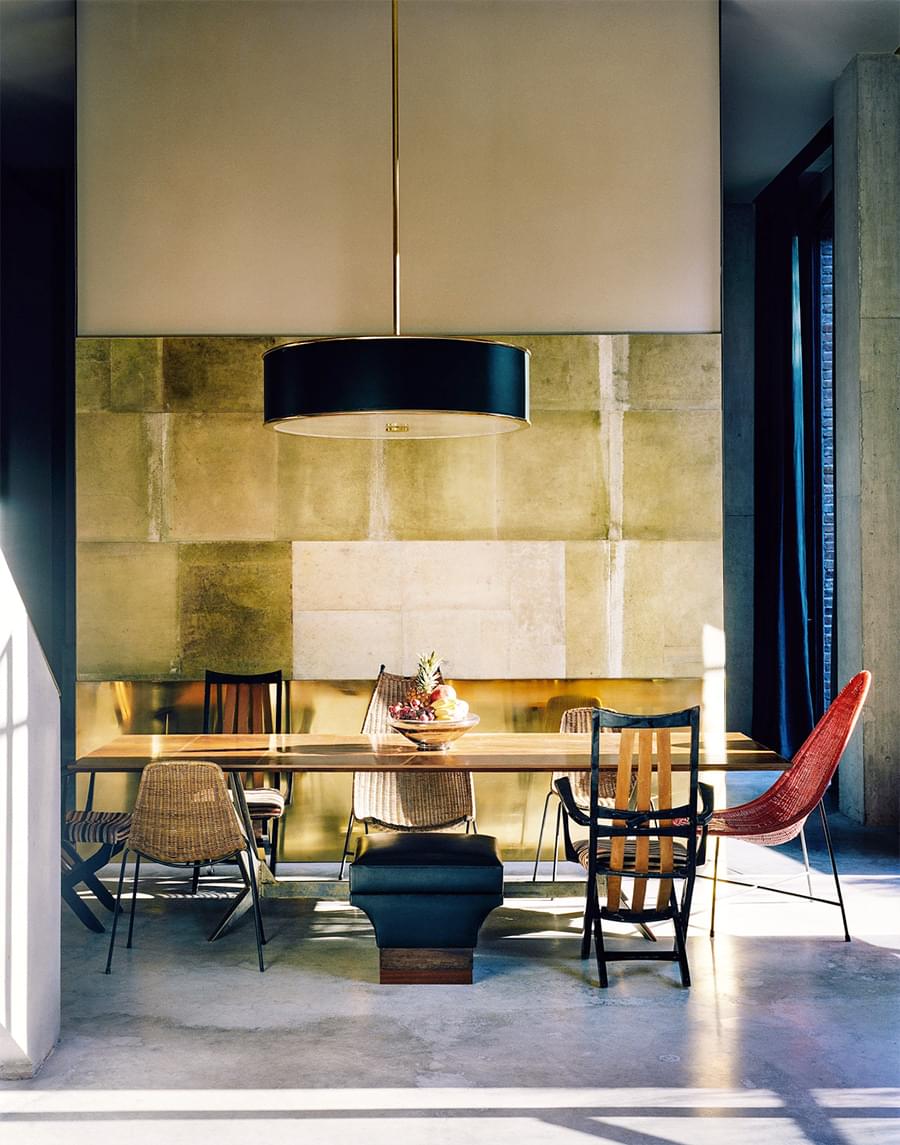 Respecting the history of the area, and of the brick building itself, De Cotiis has selected and custom-created pieces in marble, concrete, brass, fiberglass and lacquered wood, some with references to the maritime past.
He created a comprehensive whole that speaks one and the same language from the rough walls to the antique Murano glass vase, from furniture from his own Progetto Doméstico label to retro pieces and salvaged items.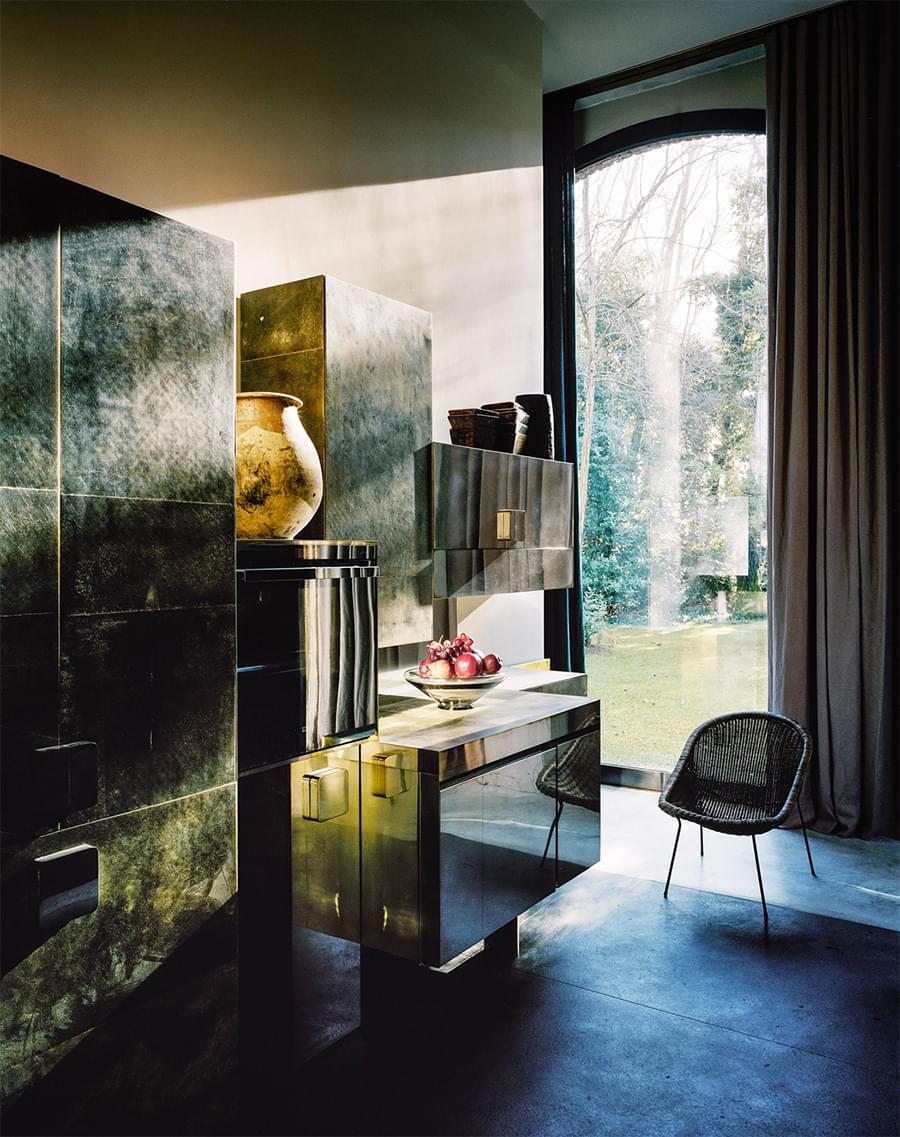 In one corner with a large window in the grand salon , De Cotiis placed a large green hanging light fixture, designed by him. It corresponds with the green plants indoors, the green drapery and with the lush view outside. Underneath the light fixture he create a peaceful area for rest with a vintage bench, upholstered in white velvet, a console in marble and a side table that is a mooring post.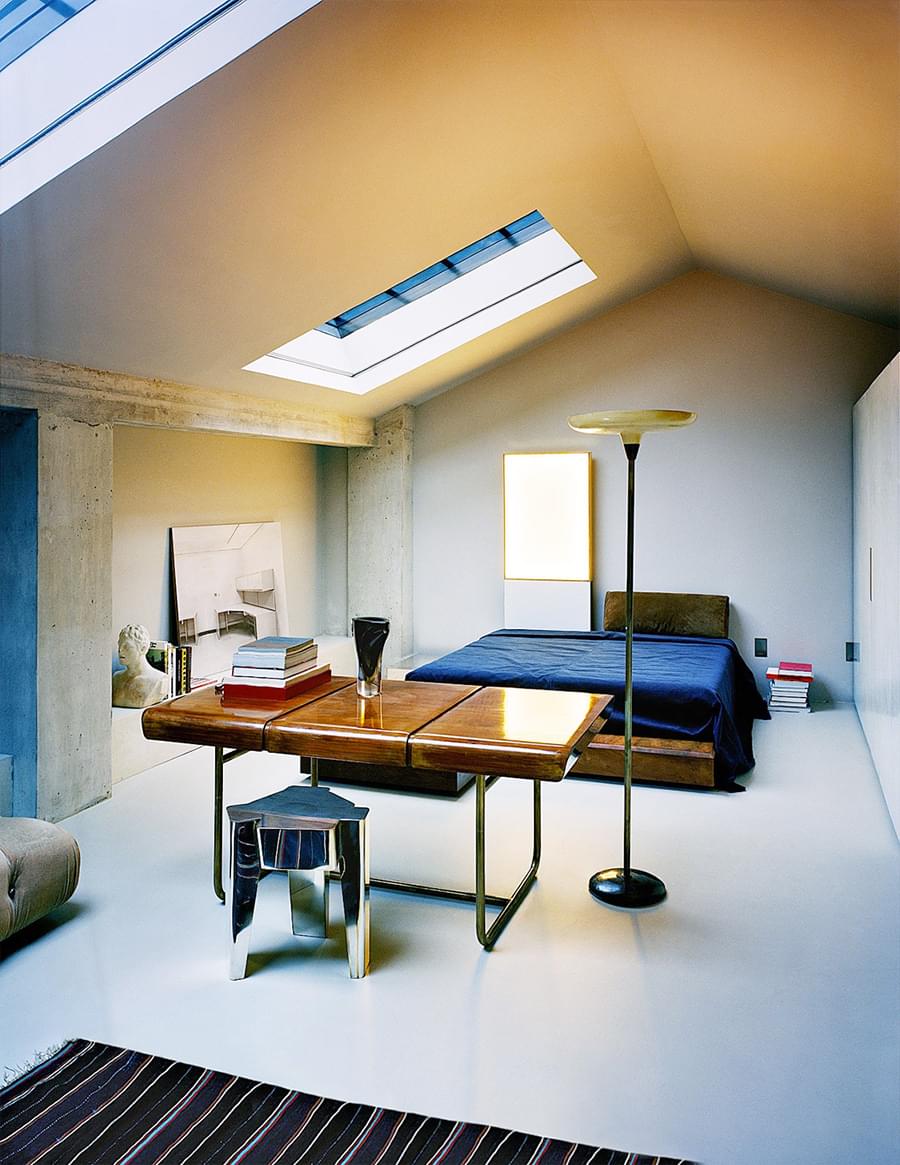 In the dining room, the Vincenzo De Cotiis-designed table is surrounded by lacquered chairs from the 1950s, a 1970s stool and vintage garden furniture. The concrete walls are covered with recycled fiberglass panels.
In the bathrooms, green marble slabs rest on bases of cast brass which cleverly eliminates all references to a traditional – or even a modern – bathroom and instead evoke a dressing room or even a bedroom or hallway, except with a sink.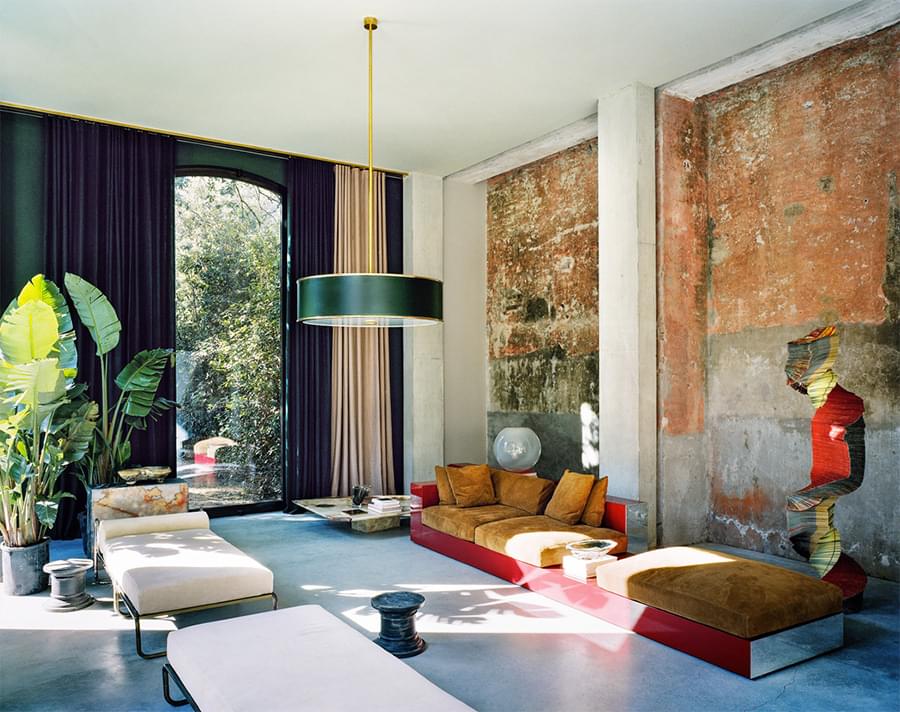 In the Art Deco-inspired kitchen, storage cabinets are made of recycled fiberglass and fitted with brass handles. African wooden boxes and antique ceramics decorate the cabinets.
The bedrooms are all on the first floor and they have their own, serene, almost austere, ambiance. Warm woods and brass evoke the nautical past.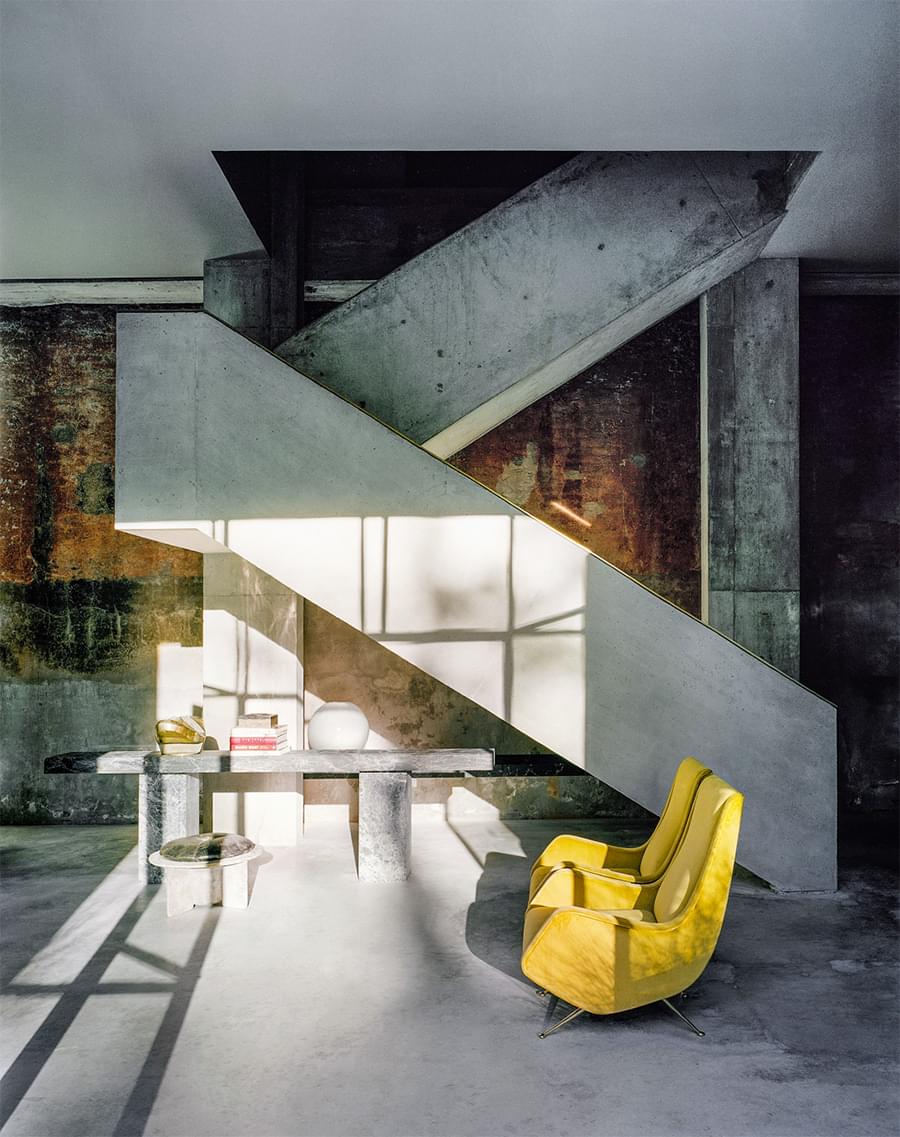 The grand salon is a great example of how De Cotiis preserved the reddish-hued patina of the historic brick walls. He designed a lacquered sofa base in bright red covered with tan suede cushions. Tuija Seipell.